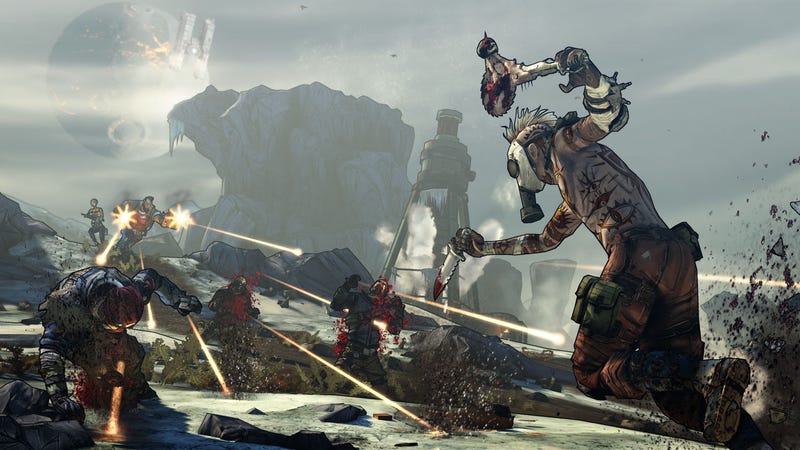 Borderlands 2 is funny, smart, and gorgeous. The controls are tight, hooking up with other players is a dream, and the PC port is one of the best I've ever seen. The Torgue campaign is hilarious and memorable, just like previous campaigns. It seems like the game's hitting all the right buttons.
My cursor hovers over the Borderlands 2 launcher, the word "Play" enticing me, but, for some reason, I glance at my desktop computer, wishing the hard drive hadn't started death-clicking on me. My Xbox 360, sitting on the shelf above, stares at me forlornly, begging me to return to Assassin's Creed's Constantinople.
I've got to play this, right? Most of my games are sitting on a hard drive I can't afford to replace, and I'm always in the mood for a shooter, so what's stopping me? Why do I feel like I'm obligated to play Gearbox's latest endeavor when I should be looking forward to the experience?
I've been struggling with Borderlands 2 for weeks.
At first, I thought that I might be in some sort of gaming funk. The past few weeks have been extraordinarily stressful for numerous reasons, and I haven't been able to take a break to deal with outstanding health concerns, which is generally the recipe for this kind of malaise. However, if that were true, and this was a funk, I wouldn't have spent two hours the other day playing Assassin's Creed Revelations, nor a few hours earlier in the week playing FTL. I'm enjoying games just fine—it's Borderlands 2 that seems to be the issue.
Humor isn't doing it for me today, and it hasn't been for a few weeks now, though the jokes themselves are often hilarious. Even a month ago, when I was nearing the end of Borderlands 2's Captain Scarlett and Her Pirate's Booty DLC, the humor wasn't doing it for me. I'd sigh at yet another hilarious quest prompt, roll my eyes at the latest joke, no matter how funny, and dutifully head off to shoot more pirates.
Actually, I think that might be where the problem lies.
Ask anyone what a Borderlands game is about, and they'll tell you "guns." They'd be wrong. A Borderlands game is no more about the weapons it uses than any other game in its genre. See, while the two main games in the series are played in a first-person perspective, they borrow as much, if not more, from games like Diablo and Torchlight.
Borderlands isn't about guns, it's about loot. And that's a big problem. As I expressed earlier, in Stephen Totilo's wonderful piece on why we like to shoot, the first person perspective can be an incredible one if the game uses it to its strengths. If a shooter treats the game space like as if it's real, players are in for a diverse, intelligent experience.