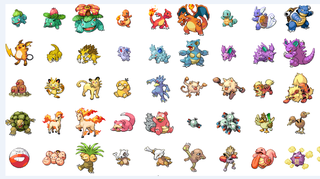 Without fail, a new Pokémon generation will bring with it a wave of criticism—the idea that Game Freak has progressively gotten worse at designing new Pokémon. I've noticed that folks who are critical of new Pokémon will typically point toward the original 151 Pokémon as examples of amazing, if not the best, Pokémon design.
I know this stuff is subjective, but: I'm here to tell you that these people are wrong. I'm here to tell you that thinking Pokémon designs are getting worse is nostalgia talking, and that it doesn't matter how the Pokémon are designed inasmuch as it matters is that these Pokémon are new. Not just new, but sometimes weird, sometimes strange, and unlike the original 151, actually imaginative.
First I'd like to give some props: the original 151 Pokémon, which were designed by Ken Sugimori, are dear to many of us. It's hard to argue against the coolness of Charizard, the elegance of Ninetails, or the endearing dopeyness of Psyduck. You probably have a favorite. Mine is Gengar: he is a mischievous ghost!