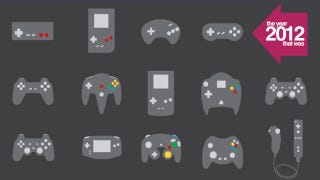 Video games are more than lasers and explosions, rules and design, music and graphics. They require input, and so they require controls. But human interface can be a dicy thing—so tough to get right, so easy to screw up.
The games of 2012 have given us some fantastic new control schemes, interesting and satisfying ways to push and pull our way around their digital worlds. Here, we'll take a look back at the best of them.
This list isn't complete—we're hoping to hear from you guys about controls you liked (or disliked) this year. But here are some standouts:
---
Sleeping Dogs
Sleeping Dogs may have mostly been a Grand Theft Auto clone, but it brought a number of cool twists to Rockstar's formula, particularly in how it controlled. Chase sequences played out in a neat quasi-parkour style that kept things moving while forcing players to react to the constantly changing environment. Fighting was an enjoyable take on the Arkham City formula, slower-paced and more strategic, and a great deal of fun once you mastered it. And while the driving didn't quite feel as good as some other open-world games, a number of control options made welcome changes. You could easily lean out of the window and hijack other vehicles in motion, and the ability to press a button to veer into your pursuers was one of those things I didn't know I wanted until I had it.
Halo 4
Sometimes, all you have to do to do things right is keep things the same. 343 Industries had a tough row to hoe with Halo 4, and yet the best thing that can be said of the game's controls is that it still feels like Halo. But that's not faint praise: Halo has a wonderful, smooth feel on a console controller, and the new game matches the fluidity and bounce of its predecessors.
Pid
Evan Narcisse: The first thing you'll notice about Might & Delight's platformer is how pretty it looks. But it's also got one of the most fun traversal options in any game this year. Early on in the game, Pid's hero Kurt gets bonded with an elemental energy called the Beam, which pushes him along certain vectors in the world. It's the kind of mechanic that recalls the teleporting of Portal or the grappling of Bionic Commando but updated in a sharp, modern way. Players can use the Beam on objects or enemies, too, and Pid's design throw lots of wicked physics-puzzle challenges that will force you to use the special ability creatively. It's a fresh idea that will stay in your brain long after the game is finished.