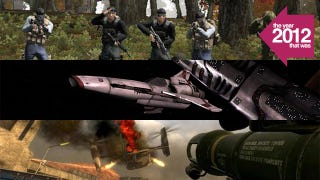 They are, beyond control schemes and visuals, the single best reason to play games on a PC. Mods can, at their laziest, tweak a game so its settings or features behave more to your liking. At their most ambitious, they can transform your entire experience, leaving you with something that feels like an all-new game.
This year was a big one for PC mods, with two—DayZ and Black Mesa—rivalling commercial products for public awareness and, perhaps more importantly, quality.
But they weren't the only great mods released this year, so in the gallery above I'll be highlighting all of the best mods I got my hands on in the past twelve months.
A note on criteria: since we didn't run this category last year, and since the development of mods can be a nebulous thing, I'm being lenient, including not just mods that were definitively released in 2012, but which could also have become prominent or released major milestone upgrades.
Game of Thrones
Paradox' excellent Crusader Kings II becomes, with an exhaustively extensive range of modifications—from the map to the characters to the very political structure of the game—just about the perfect Game of Thrones video game.