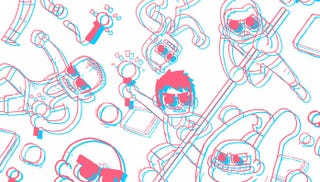 I've never forgotten Epyx Summer Games on the Commodore 64.
A significant chunk of my teenage years were spent in a neighbor's basement with crossed fingers, hoping that the collection of digital sports competitions would load and then that it wouldn't crash. I didn't know what the hell hackeysack was but I knew I had the fast-twitch reflexes to crush fools at it. Since physical co-ordination has never been my forte, playing that sports video game let me do something that I could never do in real life.
It's been a long time since I felt the way that Summer Games made me feel but the works assembled for Sportfriends rekindled that spark.
In case you haven't heard about it already, Sportfriends is a project that combines four off-kilter multiplayer games under one banner. The games' creators—Doug Wilson, Bennett Foddy, Noah Sasso and Ramiro Corbetta—have been running a Kickstarter campaign to raise money to release final versions of their games on the PS3 and PC/Mac platforms. I've already played all of the Sportsfriends experiences in different places at different times. Alone, they're each odd, brilliant shards of creativity. More importantly, when bundled together, the quartet represent a unique take on what it means to build skill and compete against others in a video game.