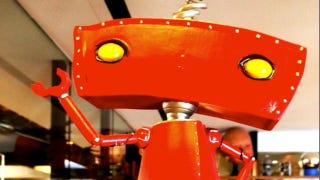 While in Los Angeles for the Video Game Awards, Metal Gear creator Hideo Kojima squeezed in some Hollywood meetings: One was with producer Avi Arad; the other was with filmmaker J.J. Abrams.

The tweets didn't exactly offer any details. In one, Kojima said he had a meeting with Arad about the movie. In the other, a day later, Kojima said he was having "another meeting" with J.J. Abrams—though, he didn't specify what it was about. Above is a photo Kojima posted of the "Bad Robot" mascot for Abrams' production company.
Earlier this year, Konami announced that it was taking another stab at making a Metal Gear motion picture. The earlier attempt died on the vine. This time, super producer Avi Arad was on board.