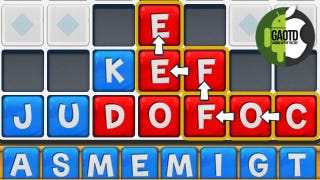 My apologies to the guy I was playing this morning in Letter by Letter. You were assigned to me at random by the game's server. You played "bole," (a synonym for "trunk") which was a very good choice. I didn't have an S to tack onto the end of that and steal the whole thing. I countered with OOZE, you with POOL as we warred over those two Os. Then, snickering like a fifth-grader, I played BOOB.
Letter By Letter, for iOS and Android devices, can be a light-hearted timekiller with a friend or a wickedly strategic tug of war. The game, played between human players only, gives you a grid of 49 squares and a tray of eight letters that constantly replenish as you use them. The goal is to have the most letters on the board once it is filled or no more moves can be made.
Words can be arranged backward, forward, up-and-down, down-and-up. All that matters is that the letters are touching. Because being diagonal to a letter counts as touching, you can, with shrewd placement, skip over a problematic tile to the letters you need to make your play. The wide open nature of forming words is what makes a turn in Letter by Letter either easy or mind-wracking, depending on what you have in your tray.
The key strategy in Letter by Letter is to steal as much of a word as possible using as few of your own letters in the process. This both cuts down on your opponent's score while leaving him little to exploit in his turn. But you have to play at least one of your letters to spell a word.
In match against one of the game's creators, (it's made by Row Sham Bow, a studio founded by EA Sports alumni) it was not uncommon for me to see him to play the same word I'd just spelled, only using another letter or two or a different path to recreate it on the board. VAPOR was spelled different ways on three consecutive turns, for example. As the developer himself was doing this constantly, I deduced that it must be fundamental to winning.