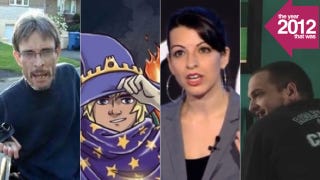 Kotaku, in its look back on 2012, will ultimately laud the best games of the year, the qualities that made them great, and those who made them great. But we also want to step back and recognize those who make video gaming, as a whole, great. The people dedicated to the ideals of this culture and whose actions reflect great credit upon it.
Here, then, is our list of the Gamers of the Year—those who don't come from games design or publishing (or the industry press). By no means is it comprehensive, nor is it a zero sum proposition. Our choice of the four below doesn't mean that all others in video games' global audience of millions are excluded.
Surely, there's someone we've missed. But this is a reasonable starting point.
The four below are chosen because they reflect the better qualities, and the better nature, of our leisure pursuit, and the good that may speak for all of us. If you know of someone, or a group, fulfilling that spirit, please nominate them in the comments below. We will later publish a collection of your thoughts on others also deserving recognition as Gamers of the Year.
---
T.J. Brida
For: Skill and Sportsmanship
There's probably no greater symbol of the thin line of happenstance separating the ordinary and the unique than what happened to T.J. Brida, a 22-year-old smartphone salesman from Philadelphia who went further into a perfect game than any pitcher, real or video game, in recorded history. Brida was pursuing a berth in MLB 2K12's Million Dollar Challenge tournament with Roy Halladay of his beloved Phillies. He got the 27 outs necessary for a perfect game. But Pittsburgh also held him scoreless, and so the contest dragged to extra innings.