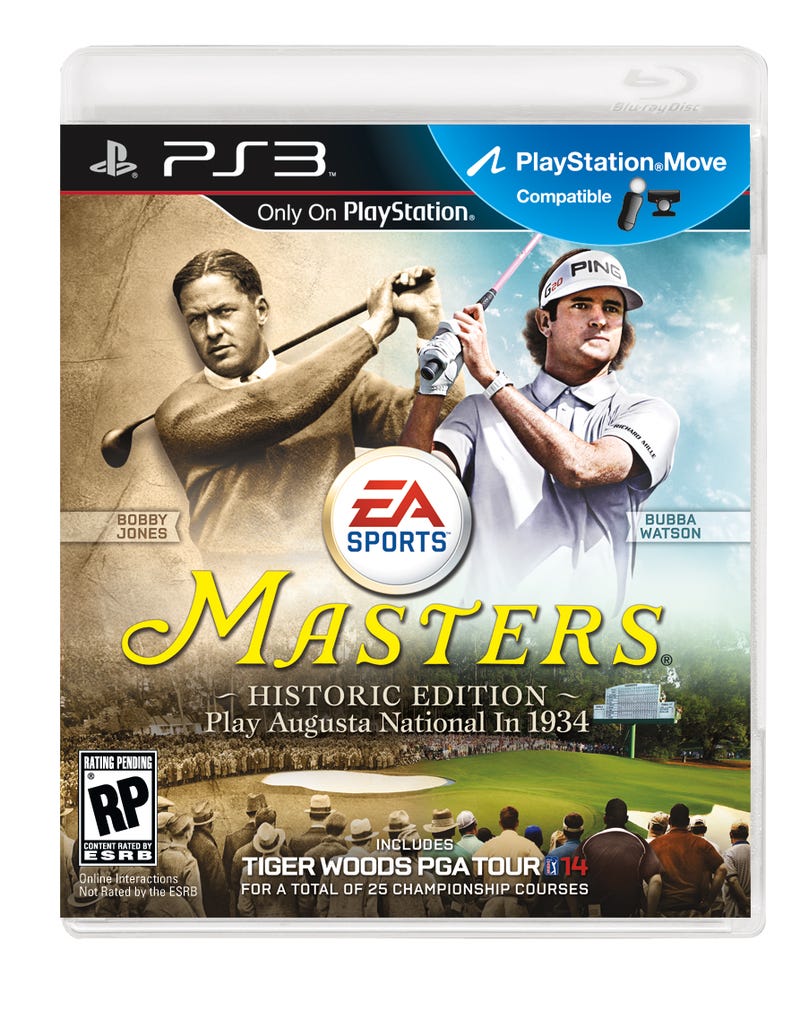 Tiger Woods isn't on the cover of the "Historic Edition" of Tiger Woods PGA Tour 14, the fifth such box—special or main edition—in which the game's titular star has not appeared alone, or at all, in the past four years.
Bobby Jones, who designed Augusta National Golf Course, and Bubba Watson, who won the Masters Tournament played there this year, will grace the cover of this special edition. (Jones' fabled "Calamity Jane" putter was on the cover of Tiger Woods PGA Tour 13's "Masters Edition," which featured no humans.)
For visual pairing, it helps that Jones hit righthanded and Watson is a lefty. The historic edition will also include five extra courses, plus Augusta's charming Par 3 course—which was free on Tiger Woods PGA Tour 12 but has been a premium inclusion since. One of the historic edition's courses will be Augusta National as it appeared in 1934, the first year of The Masters.
We can therefore assume that Jones will be a playable golfer. His Grand Slam of 1930—winning the United States and British Open tournaments and both nations' amateur championships—is the basis for the modern feat of winning four major tournaments in a single year, never since accomplished.
Glancing at this cover, the title of the game appears to be, frankly, "Masters" or "EA Sports Masters," given the prominence of the logos and the small typeface and secondary placement given to "Tiger Woods PGA Tour," the series' actual title. But the cover art for Tiger Woods PGA Tour 13's "Masters Edition" was laid out in the same way.
EA Sports in a statement, said that this does not represent any distancing of the game from Woods, reminding that the standard edition cover features both the game's full name, Tiger Woods PGA Tour 14, and Woods alongside Arnold Palmer, one of the sport's most accomplished stars.