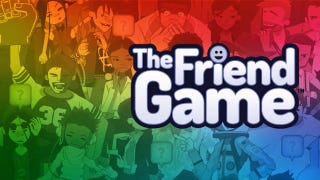 Do you think I'm a bigger tipper than you are?
Do you think I remember the name of my kindergarten teacher?
Imagine that we're friends and that a video game is asking you these questions. Imagine that it asks you to answer questions about yourself, too. For example, if you were the first person on the moon instead of Neil Armstrong, would you have thought of something cooler to say than "One small step for man…?"
If you had access to a button that would eliminate all McDonalds restaurants from existence, would you push it?
These are questions in The Friend Game, a new and potentially excellent Facebook game from the same New York-based game studio that developed a cell phone obsession of mine, the puzzle game Drop 7. Answering questions like those about yourself and your friends is how you play The Friend Game. Correctly indicating how your friend would have answered the same question—about herself or about you—is how you win.
This game doesn't feel like most other video games.
"There are a lot of games about tracking things in space and shooting them, which is an actual skill," the game's creative director, Frank Lantz, told me during a phone interview yesterday. "But there are are very few games about thinking about what another person's likes or wants or what their judgment is of you."
The Friend Game is game about "empathy," he added. "It's testing how good you are at putting yourself in the shoes of another human and knowing who they are and what their likes and dislikes are." (Note the timely contrast. This is a game about knowing your Facebook friends; not about IDing them for assassination based on their physical shortcomings.)