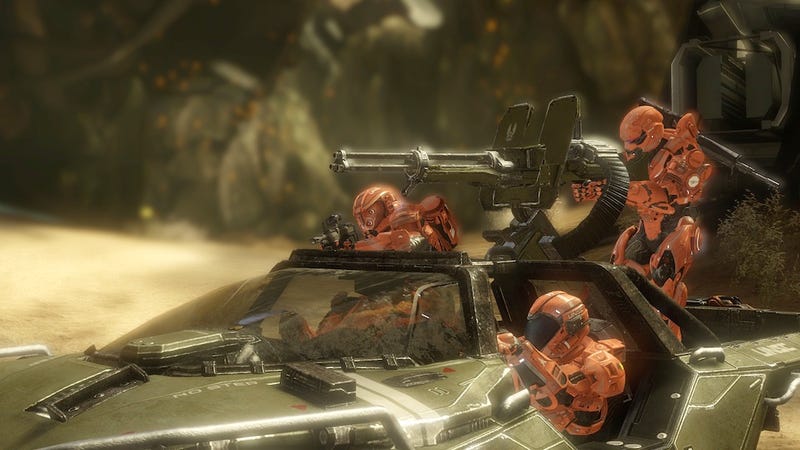 Today 343 Industries announced a partnership with Virgin Gaming to host their Halo 4 Infinity Challenge, a free-to-enter tournament in lieue of Spartan Ops updates during the almost month-long mid-season break.
You can register online for a shot at one of 2,800 prizes, including the grand prize of a 343-designed Ford Raptor truck modeled to look like part of the UNSC cavalry. That's awarded to the player who tops the War Games leaderboard.
The War Games tournament will mostly be composed of Slayer rounds, mainly due to how tailored it already is to the competitive atmosphere. It'd be harder to gauge an official winner in something like Flood mode, but don't be surprised to see other War Games modes popping up once the tournament starts. The grand prize for the Spartan Ops winner will be an appearance in a future Halo game.
Here's the full, official word from 343:
Starting today, players can register for the "Halo 4 Infinity Challenge" by visiting www.halo4infinitychallenge.com (localized registration sites available on Dec. 12). Launching on Dec. 17, the free-to-enter tournament will track your personal score in War Games and the number of Spartan Ops chapters you complete on global leaderboards, giving players of different preferences and skill levels all a shot at the more than 2,800 prizes. For the War Games leaderboard winner, the grand prize will be a UNSC-themed, V8-powered 2013 Ford F-150 SVT Raptor truck designed by 343 Industries, and for the Spartan Ops winner, the grand prize will be an appearance in a future "Halo" game.

During the qualifier phase (Dec. 17 - Jan. 10), players will need to climb the ranks of the global leaderboards by competing in either the Spartan Ops or War Games leaderboard. After the qualifier phase, players will be tiered into three groups (based on their results on the qualifier phase leaderboards) and will enter the finals phase (Jan. 12 - Jan. 19). In addition, players can also participate in Weekly Challenges found on Halo Waypoint at http://www.halowaypoint.com/en-us/intel/challenges for a chance to win great prizes.
Are you concerned about balancing issues? Bugs? Exploits? 343 is already aware of some of these issues, head honcho Frank O'Connor told me over the phone yesterday. They're preparing a patch to release just before the tournament kicks off, and will be monitoring the games closely to ensure no one is cheating or inventing new exploits.
The tournament will launch in time to test out the Crimson map pack, adding three new multiplayer maps—Wreckage, Harvest and Shatter. It releases on December 10 for 800 MS points, unless you purchased the map pass or Limited Edition of Halo 4.