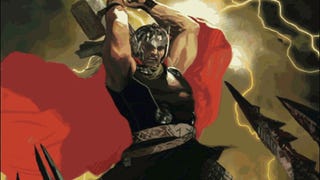 These might be the most important words in comics: "Hey, have you read that?" The medium's lifeblood has always been the word-of-mouth that passes from one reader to another. The only query that might surpass the above is "So, what'd you think?"


Hence, this recurring feature in Kotaku's slice of comics programming, where comics critics, video game makers and folks from all walks of life talk about new and/or meaningful comic-book releases.
Here's where we put the discussion into Panel Discussion. Of course, we want to hear from you. Please join us in the comments below.
---
Marvel Comics just hit the switch on their newest editorial refresh, which spins up new first issues for a bunch of their superhero series in the wake of the Avengers vs. X-Men event. Mainstay franchises like Iron Man, X-Men and Captain America are starting from number 1 all over again, while others get handed over to Sure, it's a blatant ploy to goose sales numbers again but these gimmicks also tend to hold creative surprises for readers, too.