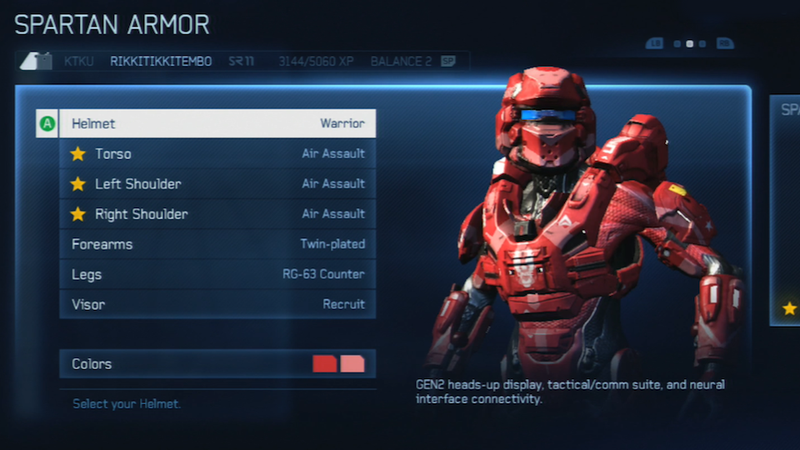 The other day, a colleague mentioned that she felt like there was something off about Halo 4's multiplayer. She was getting destroyed by other players, eventually feeling like she didn't have much of a chance when up against people with advanced abilities or gear gained from Spartan point unlocks.
This seemed like a marked difference from earlier Halo titles, where it was possible to drop in with your starting gear and have a reasonable shot at being competitive—even against people who totally out-leveled you.
I told her what most people might: that the game starts out that way, but then it peters off. After spending a few hours grinding enough XP to unlock what you want, you'll be able to perform better. After spending a bit of time with the game, you'll be able to tailor your loadout to make yourself a formidable Spartan.
Others, I imagine, might've been less courteous about their suggestions—a common response to this type of complaint is that you're being ridiculous if you whine about starting weapons and abilities because of course the starting loadouts are great! If you're good enough, right? I mean, look at how easily I own everyone with the starting weapons. You on the other hand must suck if you're not doing okay at the start, clearly.
But then I thought about it, and it hit me: why in the world do I act as if this is okay? Simply because unlocks are so common now, and just because you eventually reach a point where you have everything you need to be competitive, doesn't erase the fact that the game starts out unbalanced.
Not ridiculously so of course; developers wouldn't be able to get away with that. The starting gear in Halo 4 is reasonably good, but the stuff you get to unlock later, after putting some time in, still gives you the capacity to be even better. And I can't recall the last game with non-cosmetic unlocks that didn't have me feeling a tad frustrated at the start of my stint with the multiplayer.
Kotaku's own Tina Amini puts it well when she says this about Halo 4: