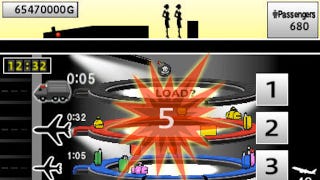 I used to love SimCity so much that I bought SimEverything, which is why I didn't just play SimTower but studied a game guide in a bookstore in order to discern how to best manage the game's elevators. Elevator management! The joy.
I liked my GameCube enough that I gave Odama an honest try, despite or because it was a real-time strategy war game that was also a pinball game. I never had someone play the support role using Donkey Kong bongo controls, but the option was available.
Sorry, but I skipped Seaman and so I can't tell you that I am an expert of the weird, awkward, alternately fun and boring works of one of the most enduring creators of oddball games, Yoot Saito. I can at least tell you that his new game on 3DS is... very Yoot Saito.
Aero Porter is a game about getting luggage onto airplanes, which would be a damning description if SimCity, a game about city planning, wasn't proven to be fun and if a game about making boxes—ArtStyle Boxlife—wasn't one of my favorite games (ever!).