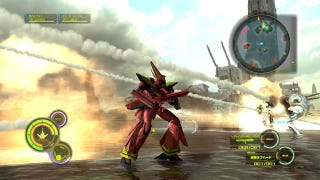 This year has been a great year to be a Macross fan. To celebrate the franchise's 30th Anniversary, there has been a new movie, concerts, a TV documentary, and the release of the anime classic Macross: Do You Remember Love? on Blu-ray. Yet, the best may be yet to come in the form of the upcoming Macross 30: The Voice that Connects the Galaxy for the PlayStation 3.

Macross 30 is an action-RPG that follows in the framework of the Macross PSP trilogy of games—Macross Ace Frontier, Macross Ultimate Frontier, and Macross Triangle Frontier. In other words, the game is somewhere between a third person shooter and a flight sim. That's not to say, though, that it looks to be nothing but a PSP HD reskin. There are more than a few new features, such as the ability to freely fly around the world between missions or do various different side quests like hunter guild quests or Valkyrie races.
The game also has an original story and includes playable units and characters from Superdimensional Fortress Macross, Macross Plus, Macross 7, Macross Zero and Macross Frontier. Voice actors from several of the featured series have returned to the studio to record new lines especially for this game.
Like with the Do You Remember Love? Blu-ray collector's edition, the Macross 30 collector's edition will come with a myriad of extras. These range from new units in the game, to character artwork, to "making of" featurettes.