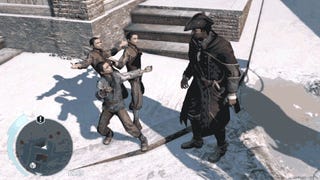 The Assassin's Creed series has always been full of weird ambient dialogue. People on the street mutter the same few lines, and the mix never sounds quite right. Most of us have less-than-fond memories of the "Mah-ney mah-ney mah-ney!!" guy from earlier games in the series, and those accursed bums who bump and bug us as we try to look cool and flit about the streets.
While Assassin's Creed III thankfully doesn't feature any physically aggressive passersby, it does feature the weirdest, creepiest NPCs I've met all year—those ghastly children.
They roam in packs of three. They laugh like Pennywise the Clown and gesticulate like… I don't know, like they're doing a magic trick? And everywhere you go, they follow.
---
I wouldn't mind the kids except for the fact that every time I see them the game plays the same audio loop, over and over and over and over and over again. Seriously. One audio file, repeated with such frequency that I just can't believe no one working on the game noticed it.
I've been playing ACIII again on PC (the PC version just came out on Tuesday), this time with a mind towards finishing it. Despite the fact that I've been very disappointed with the game, I'm determined to really dig in and get into it, to better understand what it's all about.