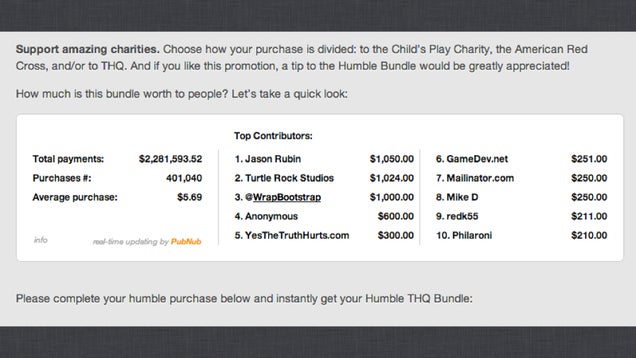 S
Right now, the Humble Bundle featuring THQ games has earned more than $2.3 million, with more than 400,000 purchases. Hell, someone's even paid over a thousand dollars for the seven titles on offer. Wait a minute, that name seems familiar…
Jason Rubin is, of, course the CEO president of THQ. It stands to reason that he would put his money where his mouth is, since he thinks the company's games—and precipitous financials—are worth supporting. And he's probably got lots of disposable income to throw at the name-your-own-price handful of games. Rubin noted that his chunk of cash went entirely to charity:
@sabre0001 My Donation was 100% Charity. That should not be interpreted as a recommendation to others on their split.

— Jason Rubin (@Jason_Rubin) November 30, 2012
That's good. Otherwise, it's just a weird sort of recycling.