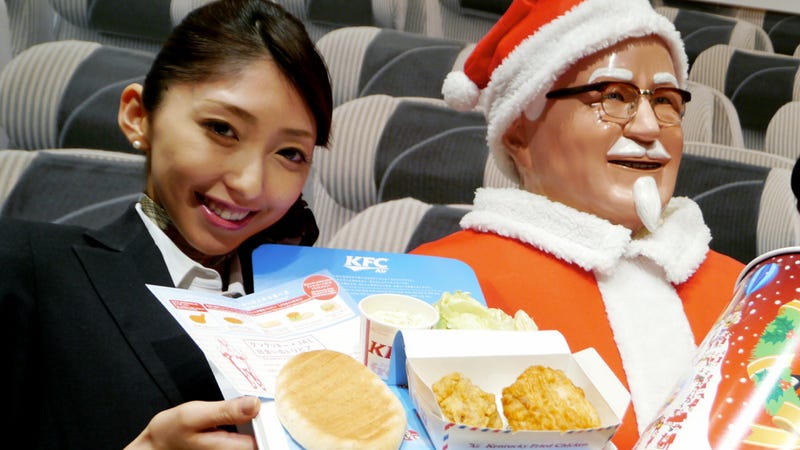 Airplane food sucks, especially in coach. Even when it's good, it's so bad. No wonder Japanese air carrier JAL is looking beyond traditional sky meals. JAL wants its meals to be finger lickin' good. Literally.
From December to next February, JAL is collaborating with KFC for what it's calling "AIR Kentucky Fried Chicken." Clever!
Japanese website Gigazine attended the press event for Air KFC and prepared a "delicious plate of AIR Kentucky Fried Chicken", with KFC's original flat bread. Below, you can see the meal tray, instructions for eating, and chicken.
---
JAL has been facing stiff competition from rival All Nippon Airways for several years. Traditionally, JAL was the premiere air carrier, but that's changed, with ANA boasting more passengers than JAL for the second consecutive year in a row. A cabin filled with the smell of KFC could just be enough to lure fliers back to JAL.
Whether it's potato chips, fancy schmany KFC bars or all you can eat chicken, Japan loves KFC. For decades now in Japan, Christmas dinner has been associated with KFC. The holiday tradition started in the mid-1970s when KFC Japan began promoting fried chicken as a Christmas meal. Every year, many people still reserve their meals in advance for the holiday.