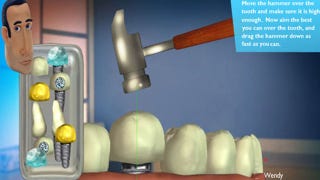 The magic of mobile gaming affords us countless opportunities to explore magical worlds filled with happiness and joy and comfort. Or we could just take a hammer to our teeth.
I must admit that when I first saw Dental Surgery at the top of this week's free iPhone app charts, I downloaded it immediately. Within moments my teeth were aching sympathetically. Then I stopped playing and erased the game from my phone. I'm guessing that's what everyone else did too, but the initial download counts.
Here's hoping that one slips from the charts next week, like a skipping dental drill etching a long uneven groove across the front of your molar.
You're welcome.
---
---
Top Paid iPhone Games - 11/27/2012
1. Angry Birds Star Wars
Last Week's Position: 1 (0)
Yep, this one's still here.
Angry Birds Star Wars on iTunes
2. Bad Piggies
Last Week's Position: 3 (+1)