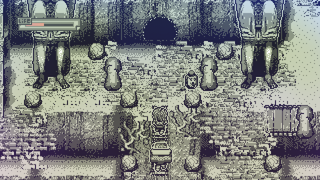 This morning, I saw someone tweet an article called "Gaming Journalism versus Nintendo." Catchy enough headline. I had to check that one out.
The article, written for the website Not Enough Shaders by a writer named Emily Rogers, levied a number of accusations at a large gaming website that was not named. (The article has since been taken down, but the folks at NeoGAF have saved the copy and you can read it in its entirety here.)
According to Rogers, an indie game studio named AckkStudios took an interview with a large gaming website the week after Hurricane Sandy.
"Hey wait a minute," I thought to myself. "I work for a large gaming website. And I interviewed an indie game studio named AckkStudios the week after Hurricane Sandy."
According to Rogers, the folks at AckkStudios were upset that the interview had not yet been posted on that large gaming website. Rogers wrote that AckkStudios thought the interviewer only wanted to talk about how Nintendo mistreats indie game developers, and when AckkStudios wouldn't comply, the large gaming website decided not to post the article.
"That's not really how my interview with those folks went," I thought, "but my interview still isn't live. November has been so busy, and I haven't had a chance to transcribe it yet. Is she really talking about me?"
Then Rogers started getting more specific. "For the record, I'm NOT talking about IGN, GameSpot, Eurogamer, or Destructoid," she wrote. "The site I'm speaking of is just as well known as those sites though."
Okay. That certainly narrowed it down. Rogers continued: "The irony is that the top guy behind this site has been regularly defending gaming journalism when his site has been the biggest contributor in manufacturing click-bait controversy." Could this have been a reference to our editor Stephen Totilo's recent story about game journalism?