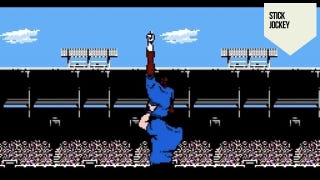 With respect and admiration for, if not apologies to, the late Ernie Harwell, here's something adapted from his famous Induction Day speech at the National Baseball Hall of Fame, Aug. 2, 1981, which itself was adapted from this 1955 essay.



Stick Jockey has published this annually on the weekend after Thanksgiving weekend. I've updated it for this year, and I'd like for it to remain a tradition.
Sports video games are the very first video games: a glowing ball bouncing back across an oscilloscope in a atomic research laboratory. Tennis for Two. They're there with the first coin-operated video games, at a bar in Sunnyvale, Calif., in a crude machine stuffed with so many quarters that it broke down. Pong. That's a sports video game.
They are the original fighters and the original racers. Turbo and Punch-Out!!, Pole Position and Ring King, Ready 2 Rumble, UFC Undisputed and Fight Night. Sports video games were there at the beginning of console multiplayer gaming, on a dialup and a Dreamcast.
The Greek rhetorician Athenaeus once wrote, "No one has yet calculated how many imaginary triumphs are celebrated by people each year to keep up their courage." I do not know either, but I suspect the answer is in the millions of sports video games sold every year the world over. Maybe sports games don't make the cover of Game Informer. Maybe their rumors aren't spread throughout the industry with breathless speculation. But sports video games don't take seven years to develop, either. Without fail, on opening day, your favorite team, its players and the entire league will be on a disc in your tray.
From Green Bay to Manchester City, every failing can be reversed, every triumph can be reimagined in a sports video game. Every year, a Heisman Trophy winner sits down, controller in hand, and enrolls at a completely different school to recreate his career there. That's a sports video game. So is the Phillies fan who took Roy Halladay on a journey through 13 perfect innings, gave up a hit, and had the character to accept the outcome. Sports games extend the passion of rivalries and nourish the expression of a competitive spirit that, for millions, began a long starvation on their last day in shoulderpads or stirruped hose.