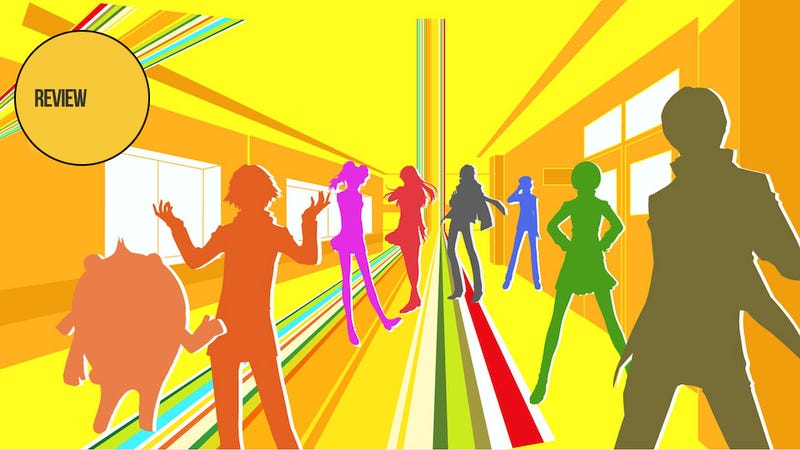 Jason: Hey, Kirk. So you're playing Persona 4 Golden, and I'm playing Persona 4 Golden, and we both have lots of things to say about Persona 4 Golden. Maybe instead of one of us reviewing it and the other one chiming in later, we should review it together?
Kirk: Why, Jason, what a fantastic idea. I was thinking the exact same thing. After all, a game this size probably deserves two reviewers.
Jason: It's too bad we can't split it in half, eh? As of right now, I've spent around 15 hours with the game—and I'm probably like 1/10 through, at most. I'm in June, about to rescue Rise. What about you?
Kirk: It'd certainly make it easier to finish the damn thing. I marvel at people who have completed this game in time to review it. I recently passed 50 hours (50! Hours!) and I'm still not done. I'm in early December, and things have, let's just say, gotten DRAMATIC. I do think I've entered the endgame phase, though I've heard that the endgame in Persona 4 is super long. But still, every time I tell a veteran Persona 4 player where I am (I recently got Naoto into my party and did the beauty pageant), they say "Oh, cool, the game is kinda just beginning." And my head explodes.
Jason: See, I don't even know who Naoto is! Or maybe I do? Is that the fat girl who broke Yosuke's motorcycle?
Kirk: Ha, no. That's Hanako. You've actually met Naoto, but you don't know it yet.
Jason: By the way, dear readers, you should probably know at this point (in case it wasn't very clear) that Kirk and I are both experiencing Persona 4 for the first time. So this won't be a review that delves into all the major changes between P4 and its Vita remake; this will be more of a document of our experiences playing this wonderful game for the first time ever.
WHY: Persona 4 Golden is the ultimate incarnation of a role-playing classic, a seductive game that will worm its way into every corner of your life.
---
Persona 4 Golden
Developer: Atlus
Platforms: PlayStation Vita
Release Date: November 20
Type of game: Combination turn-based role-playing game and high school dating simulator. Also makes julienne fries.
What we played: Jason: 15 hours, up through the end of June
Kirk: 55 hours, up through the first week or so of December.

Our Two Favorite Things
The countless ways the game improves on the Persona template to make it easier and more fun to do, well, everything.
The writing is so, so, so good.
Our Two Least-Favorite Things
Teddie can be kind of annoying.
Getting insta-killed can be a serious drag, and sometimes you just might not feel like going through another dungeon crawl.
Made-to-Order Back-of-Box Quotes
"[Laughs way too hard when Rise makes a joke about getting married]"
-Kirk Hamilton, Kotaku.com
"Is that Hulk Hogan? A glowing, neon Hulk Hogan? WHY IS HULK HOGAN KILLING ME"
-Kirk Hamilton, Kotaku.com
"Every day's great at your [PERSONA 4 GOLDEN]."
-Jason Schreier, Kotaku.com
"If only you had a Vita."
-Jason Schreier, Kotaku.com
Kirk: Right, and just so y'all know, while we won't spoil any major stuff, we will talk about a lot of minor plot points throughout the first half of the story. I also want to talk about all the ways that P4 improves on its predecessor, because some are very interesting. You and I kind of discovered Persona at the same time, huh? With Persona 3 Portable earlier this year. Looking back on how enamored we were of that game, it's amazing—people who had played Persona 4 must have been dying to tell us about how much better the sequel is. How do you think P4 stacks up to its predecessor?
Jason: I dunno—what do you think makes it better? You've hinted that I still haven't seen all of the game's major mechanics, but right now Persona 4 feels very similar to Persona 3 in many ways. It follows the same structure: school->social links->school->dungeon->school->boss fights once a month. A lot of the graphical and musical cues are also similar, when not identical. Some of the characters even follow similar tropes: there's the goofy best friend who slacks off at school (Junpei/Yosuke), the innocent girl (Yukari/Yukiko), and the animal who hangs around just to be weird and cute (Koromaru/Teddie). What are the major differences, in your opinion?
Kirk: Well, mechanics first: They've streamlined a lot of mechanical things in smart ways, and made it more user friendly. For example, there's only one type of physical attack now, instead of… how many did P3 have? Four?
Jason: Too many.
Kirk: It was intense, and I could never even keep straight who in my party did slash damage, and who did piercing… I love that you can switch Personas once per turn, instead of once per battle. Also dig how your party can't get split up while exploring. Lots of other things, too—they now tell you every time you're about to hang out with someone whose social link isn't about to advance, fusing personas is a lot easier to understand, you have a lot more attributes like "expression" and "understanding" to deal with, as opposed to Persona 3's three, and those attributes unlock dialogue options.
Jason: And how those friggin' dialogue options won't even be available until you play the game AGAIN.
Kirk: Yeah, I'm definitely getting a whiff of New Game Plusiness about all of this. I also like how you socialize compared to the last game—you'll hang out with groups, and cross-socialize, and your social circles intersect more. Everything feels much more connected, and you can get closer to multiple characters at once. Dungeon crawling is more connected too—the way you'll come across your other teammates in the dungeons, the way that Rise hops into battle to help you—it feels like much more of a group effort.
As for the characters themselves, part of this is because I've gotten to know them all a lot better, but they're all far more interesting and, honestly, likable than the characters in P3. Each one has a personal challenge that's more interesting than in P3—Kanji's sexuality, Chie's fear for her friend Yukiko and desire to be seen as feminine, Yosuke's mourning for his murdered crush, Naoto's personal stuff (which I won't spoil), Rise's wish to be a normal girl and Yukiko's desire to avoid running the family business, which, now that I think about it, is similar to Mitsuru's wish to avoid running the family business, but different in an illustrative way.
Jason: And also Yukiko is hot but not quite as hot as Mitsuru.
Kirk: This is true, but then again, as we've established, no one is as hot as Mitsuru. The thing I like is that P4 isn't as crazy and superhero-like—it's much more grounded. All of the characters are more grounded and real, and feel much more fleshed out than the characters in P3. And as for Teddie, well… he's a lot more complicated than he seems! Wait until you rescue Rise, you'll see.