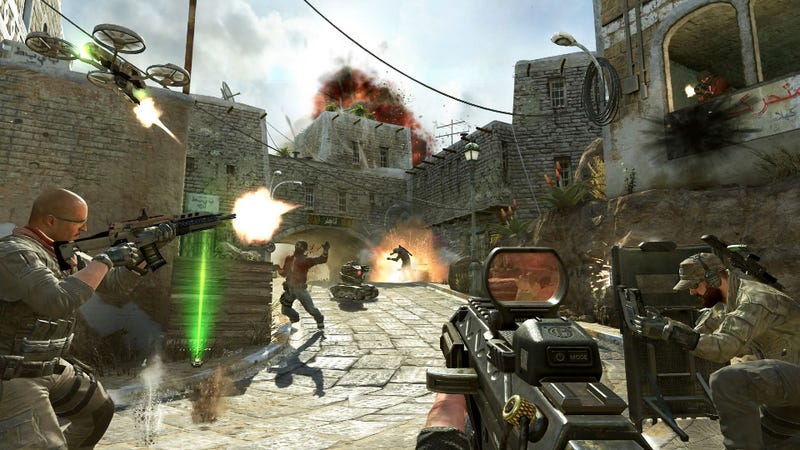 A few days after the release of Call of Duty: Black Ops II, the first-person shooter game's publisher, Activision, released their annual braggadocious press release about the success of their most successful video game series.
"Life-to-date sales for the Call of Duty franchise have exceeded worldwide theatrical box office receipts for 'Harry Potter' and 'Star Wars,' the two most successful movie franchises of all time," the news blast quoted Activision CEO Bobby Kotick as saying.
Kotick's boast may have impressed the kind of people who are impressed when someone declares that there are more apples than there are oranges. The CEO, after all, didn't dare factor in the VHS, DVD, Blu-Ray and download sales of the Rowling and Lucas juggernauts. He said this to make Activision look good, to impress Activision stockholders and to declare—as people who play, make and, yes, report about video games so often do—that video games are a really big deal. Like, they're such a big deal that they make as much money as movies. So you should take them seriously. And...
The people who love games or make money off games just might seem to have a bit of an inferiority complex, it seems to me. They—we—want to prove to the world that games are a big deal. And when it comes to first-person shooters, I sense there's even a bit of embarrassment, a bit of anxiety that non-gamers, outsiders, old people, politicians, critics, whoever, are repulsed by the violence in these games.
And look how crassly commercial these shooters are! They're not gaming's Oscar contenders, right? They're the action movies, the schlock blockbusters. Or... are they? Perhaps they really are some of the best things gaming has to offer. That's what I've been thinking about in this season of a yet another new Halo and yet another new Call of Duty.
How can all these gamers enjoy all this shooting? Why would we enjoy it? Why do we?
Last week, in The New York Times, I tried to explain why I think shooters are so popular, why they work so well in video games.
I wrote, in part:
Shooting in video games is ultimately the connecting of Point A to Point B, the elimination of one set of shapes, representing the enemy, from a TV screen to keep another arrangement of shapes, representing you, illuminated and ready for the next encounter. A good shooter game is a laboratory for tactical decisions and a test chamber for your reflexes and wits. It's armed checkers or chess with no resting for turn taking.

...

Someone once said that video games were really just about cleaning, about finding the right tools to scrub enemies from a scene. In Halo games the vacuum, mop and dust rag have been the gun, the grenade and the melee. Recent versions have added equipment like jetpacks or, in Halo 4, a floating sentry turret and glide jets, among other things. The typical encounter has involved approaching an enemy force and maybe tossing a grenade to make it scramble or drop its shields, then shooting it to soften it up further, then running in to punch it, then hanging back to heal rapidly.

...

The best experience [in Halo] involves cranking the difficulty to Heroic and engaging a set of enemies, trying new strategies repeatedly and scavenging weapons or equipment from the battlefield until the right solution is found, and the enemies are dusted. These phases of stressed decision-making are training for the more unpredictable encounters with rival players in the competitive multiplayer mode. A good minute of Halo combat is like a good minute in the gym: The rest of your life is momentarily forgotten while you sweat it out, and then you're happy that the challenge is done, and that you are in some way improved.
Shooters, I was saying, are some of the best games for letting us make decisions. Given my feelings about good games being those that let us make interesting decisions, of course I'd see a whole lot of value in playing shooters.