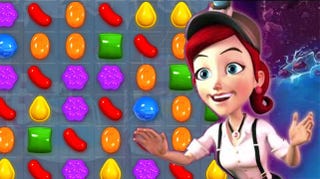 In an odd bit of unintentional coordination last week, Zynga and King.com both launched mobile versions of their hit Facebook games on iOS on the very same day. This gives us a chance to answer a question with this week's charts: Who's players are more into mobile, Ruby Blast's or Candy Crush's?
Judging by the two apps' positioning on the free chart this week, one could infer that the answer is Candy Crush Saga, but that's not taking into account on important factor: Ruby Blast is not a very good port. It's only half of the Facebook version of the game, and not the half that's been driving new players to the web-based game in droves lately.
So I guess that question really wasn't answered after all. Hey look, Angry Birds Star Wars.
---
Top Paid iPhone Games - 11/20/2012
1. Angry Birds Star Wars
Last Week's Position: 1 (0)
Not expecting this one to go anywhere anytime soon.
Angry Birds Star Wars on iTunes
2. Bloons TD 5
Last Week's Position: N/A
Those evil balloons are back in the ultimate pop-centric strategy game.
3. Bad Piggies
Last Week's Position: 3 (0)