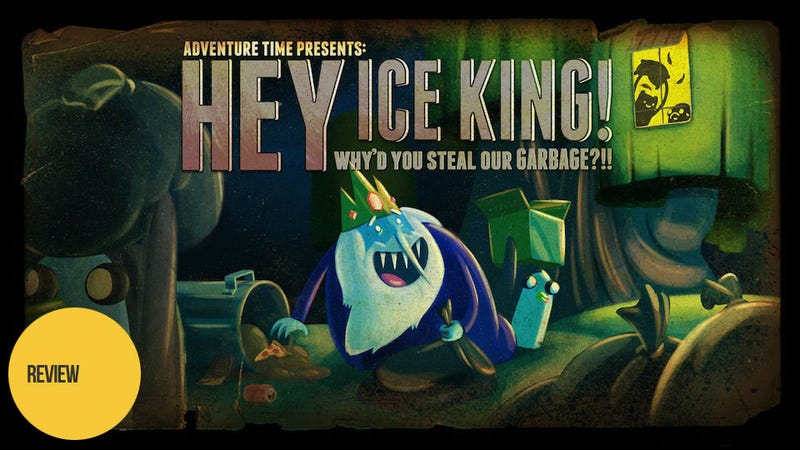 There are plenty of shows that apparently only certain groups of people can appreciate. Adventure Time? Scoff! That's a kid's show! Definitely heard that one before.
Adventure Time—created by the lovable and witty Pen Ward—is a cartoon show on Cartoon Network. It features two adventurers, Jake and Finn, who are the best of friends. They get each other's humor and share each other's strength of character and values. They're heroes. They're also super silly and say things like "mathematical!" to proclaim their excitement. It's wonderful.
Not everyone gets the appeal. But if you keep up with the show you can see how hauntingly serious it can get, and how it delves into mature themes that kids wouldn't understand. If you're not a fan of Adventure Time, there's probably some depth you're missing. Or maybe you're just really not a fan, that's fair too.
If you are a fan, though, and have been nervous about the 3DS game—Hey Ice King! Why'd You Steal Our Garbage?!—based on the fantastic show let me, as a fellow fan, tell you not to worry. Well, don't worry too much.
WHY: Adventure Time creator Pen Ward's writing really shines through to make this 3DS title feel like an Adventure Time game.
---
Adventure Time: Hey Ice King! Why'd You Steal Our Garbage?!
Developer: WayForward
Platforms: Nintendo DS, 3DS (played)
Released: November 20
Type of game: Action-adventure game
What I played: Roughly 5-6 hours of the entire campaign.


My Two Favorite Things
The writing that's perfectly Adventure Time to the point that I can hear the characters in my head.
Meeting new characters that I remember from the show.
My Two Least-Favorite Things
It's clearly an easy game made accessible for kids.
It's not the Adventure Time game I dreamed for. Some of the best characters don't get much screen time, and the map only scratches the surface of the depth of the show.
Made-to-Order-Back-of-Box-Quotes
"Mathematical! Calculus! Hypotenuse! Pi! Slope! Other math terms!" — Tina Amini, Kotaku.com
"It's not perfect, but it's friggin' Adventure Time. Need I say more?" — Tina Amini, Kotaku.com
You see, I was worried first, too. I figured that the developers WayForward would lean this game too much towards the kids' category. And they did, to a degree.
Hey Ice King! is an adventure game. You explore a map, enter dungeons, kill enemies, pick up items, give those items to other people, go find more items. Everything, of course, fits the theme of Adventure Time. Your main enemy is the sad and lonely Ice King. Your damsel in distress is a princess. Well, a princess made of garbage, but hey, this is Adventure Time so as long as it doesn't make normal people sense it definitely makes Adventure Time sense. But it is a kid's game in the sense that it is supremely easy. The platforming is basic, the enemies aren't too difficult. Progression through the game relies on entering new dungeons to find new Jake abilities that open access to parts of the map that were previously inaccessible. As you wander and unlock access to more of the map with Jake's new ability to turn into a bridge or a boat, you'll meet more characters from the show.