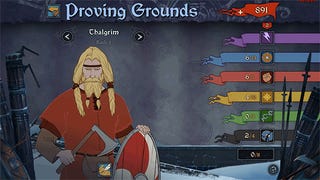 I've spent the day playing a very early beta build of The Banner Saga, an upcoming indie turn-based strategy game. Obviously plenty of the game wasn't working, but I can tell you about the bits that were.
In terms of presentation and design, it's a very simple game. So simple that you should consider it more a tabletop or board game experience than what you'd expect from a video game. There are no terrain modifiers, no sweeping views of expansive battlefields, just a flat, open board where two teams of warriors go at it.
Like Battle Chess, then. Only with Vikings (here's how it works).