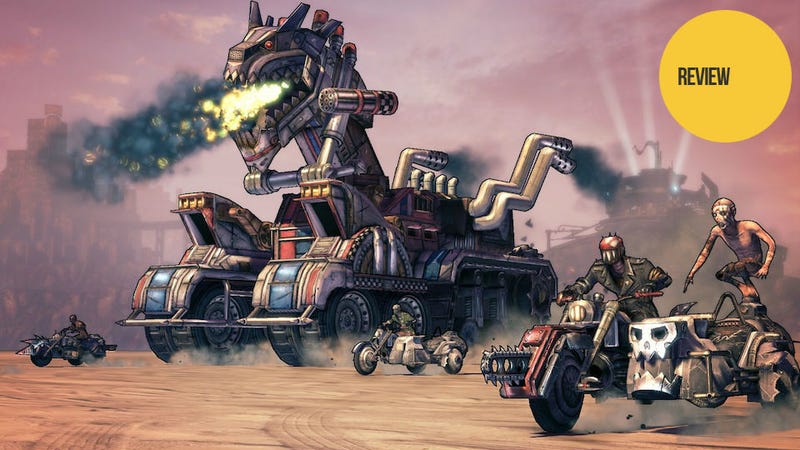 The newest Borderlands 2 DLC is an arena-based battle. It's also a set of questlines in a campaign mission to become the biggest, baddest badass of the Badass Crater of Badassery.
Still with me? Mr. Torgue's Campaign of Carnage is all about proving you're the baddest dude or dudette in Pandora, because only the baddliest of baddasses will be allowed access to the vault that requires the blood of a coward to be opened.
Have you ever played the Wii's No More Heroes? Where the protagonist faces off against the next rank of assassins to become the number one assassin (and I suppose the only one even alive)? The plot in Mr. Torgue's Campaign of Carnage is precisely about that kind of competitive killing. Which means, of course, that you'll be introduced to several new characters, each equipped to fight you in their very particular style, whether that's atop a buzzard or on a road bike.
There's an entire new area for you to explore while bloodily making your way through the ranks of badasses. They're all centered around the large, gladiatorial arena. Some are clusters of bandit camps. Others are dark, up and downhill paths around buildings, giving the impression of an elaborate city (which would be awesome, and I would love to see this idea fully realized in future DLCs). Others still are hazardous walks through lava-laden hideouts. It's neat, but there really isn't a lot to dig up in these new areas. They're nowhere near as beautiful or expansive as the last campaign add-on we got for Borderlands 2.
WHY: It's an excuse to play more Borderlands 2.
---
Borderlands 2: Mr. Torgue's Campaign of Carnage
Developer: Gearbox
Platforms: Xbox 360 (played), PS3, PC
Released: November 20
Type of game: First-Person Shooter/RPG
What I played: Roughly 4 hours to finish the main campaign, and about an hour or so of side quests.


My Two Favorite Things
More Borderlands 2.
New characters, plus more Tiny Tina.
My Two Least-Favorite Things
I don't get to ride that sweet motorbike?!
Memorable moments are few and far between.
Made-to-Order-Back-of-Box-Quotes
"I should really introduce my mom to Mr. Torgue. Then maybe she'd stop saying I cuss too much. Shiet." — Tina Amini, Kotaku.com
"'What are you buying on Amazon, Tina?' 'A fucking motorbike. Go away.'" — Tina Amini, Kotaku.com
This isn't like Captain Scarlett and Her Pirate's Booty, the last campaign DLC that graced Gearbox's FPS/RPG sequel. There aren't a ton of side quests to plow through. Even the main mission in Mr. Torgue's Campaign of Carnage is a fairly fast adventure, something I killed in about four hours. You start off in an arena, fighting off waves of enemies and proving yourself worthy enough to enter the ranks of badassery. Then, after you've defeated each individual up the badass ladder by tracking them down across the Badass Crater, you're back in the arena, fighting for the last win.