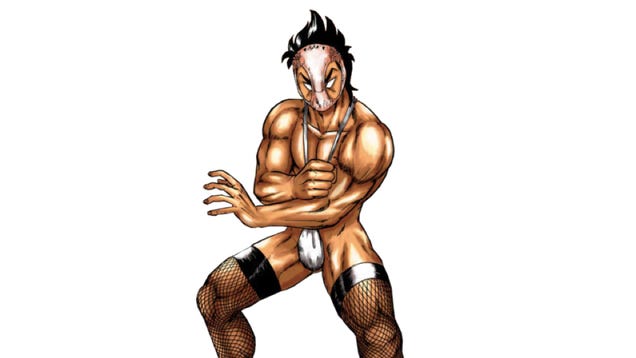 This weekend, when folks settled into dark theaters across Japan to watch
the new Evangelion anime
, they were, as with most movies, bombarded with previews. Sandwiched betweem the ten or so trailers, was a short, 15-second clip that probably made the audience's collective mouth drop. Most people probably didn't know what the hell they were watching. Those that did wondered if Japanese manga's pervert superhero
really
getting his own movie.

Hentai Kamen, "the abnormal super hero", is a gag, totally tongue in cheek manga that ran in the early 1990s in Weekly Shonen Jump and followed the adventures of a crime-fighting high schooler who wears a mankini. Wearing panties on his head gives him superpowers.
The 15 second trailer shown before the latest Evangelion depicted a "suiting up" montage that's so common in superhero movies. In this montage, however, you could see a guy's ripped muscles as he put on the mankini spaghetti straps. It showed a rooftop at night, and the character's obscured outline could be made out in the moonlight. The letters "HK", in a metallic Harley Davidson style font, flashed on the screen.
The short trailer looked to be both CG and live action. There was no info about who is starring in the movie or when it's coming out. It didn't even explain what "HK" referred to.
Website IT Media followed up with Hentai Kamen's publisher, who said that it didn't have anything to announce at the present time. Then who was that masked panty-headed man?
「変態仮面」映画化か!? 謎の映画「HK」予告が話題に [IT Media]
---
Kotaku East
is your slice of Asian internet culture, bringing you the latest talking points from Japan, Korea, China and beyond. Tune in every morning from 4am to 8am.