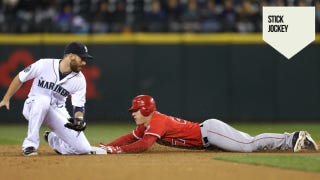 When I was about 15, about the time you should begin to read serious books and challenge the accepted wisdom of your forebears, I got a copy of Total Baseball, an enormous, flaccid, yellow paperback about the size of the Manhattan phone book. I studied it at the foot of my bed next to the hardbound Macmillan Baseball Encylopedia which looked more like a social register from 1941. One was an annually changing volume; what truth it contained today may be, and likely would be, revised in the coming year. The other, at the time, was the establishment of names and numbers any decent person should know.

In 1990, Macmillan's stats read like the back of a baseball card; in order: games, at-bats, hits, doubles, triples, home runs, and so on. Batting average was down by your right hand. Total Baseball had the traditional measures, but also gave room to things like on-base percentage. It discussed concepts like Tom Boswell's "Total Average," whose fundamental bases gained/bases out comparison (with messy, stray numbers like being hit by a pitch or interfered with by the catcher) is more easily fashioned simply by adding someone's slugging and on-base percentages—the venerated OPS of today.
Yet when I fired up Hardball! on my Commodore 64, and I had a choice between hitting Rawlings or Joworzski in the sixth slot, I didn't dither on those concepts or look through the three-ring binder of stats I'd kept to parse them out. (And I had entire games scored, play-by-play. I could have done it.) I went with the generally accepted accounting practice of hitting: batting average.