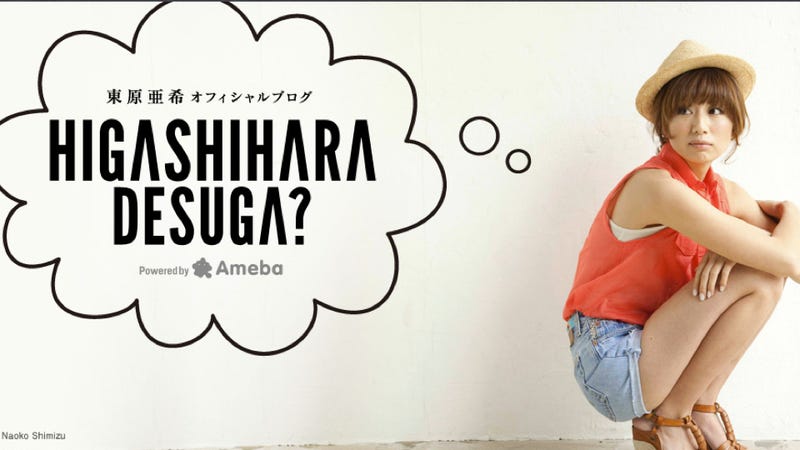 Japanese actress Aki Higashihara writes a blog—a blog that has been nicknamed the "Death Blog". It's called the "Death Blog" after Japanese manga Death Note, because her track record has not been good. Well, it's been good at causing bad things, such as the death of the Nintendo Wii.

As previously noted, here's a round up of her rotten luck:
• Higashihara works as a campaign girl for the Dreamcast, and then the console is defeated by the PlayStation 2.
• In early 2008, Higashihara appears at a McDonalds for an event. Parasites are found in the burgers the next day.
• That same year, she appears in an ad for instant ramen. Later, parasites are found in that company's instant noodles and insecticides are found at the factory.
• She dates the best Judo athlete in the world, Kosei Inoue, and he only places fifth at the 2004 Olympics.
• In 2008, she states she'll marry Inoue at the Imperial Hotel. A fire breaks out at the hotel.
• After marrying Higashihara, Inoue not only loses the judo championships but doesn't even make the Olympic team. Regardless, she attends the Summer Olympics, and the Japanese team post its worse performance ever.
Increasingly, some people are apparently taking what she writes on her blog more seriously (some are just having fun with the whole thing). Japan's News Post Seven is even reporting that those connected to Japan's judo team are asking Inoue to tell his wife not to blog about the Japanese judo team. Inoue is slated to be the team's coach for the next Olympics.
Things are touchy right now, because at this year's London Olympics, the country's male judo team got zero gold medals for the first time in its history. It seems that there are those worried that Higashihara could make that a repeat if she blogged about the sport on her Death Blog.
Sure seems like the actress hasn't lost her magic touch. News Post Seven did a round-up of recent incidents that have unfolded surrounding Higashihara:
• Higashihara writes former Sega spokesperson Yuko Ogura a message on her blog. A fire breaks out at Ogura's restaurant chain.
• She writes about wild comedian Sugi-chan on her blog. Sugi-chan seriously injures his spine and needs three months to recover.