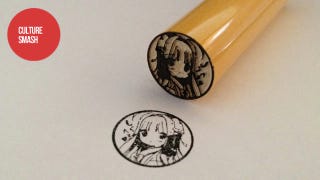 In Japan and most of Asia, documents require a seal. The Japanese word for these stamps is a typically "hanko" (判子) or inkan (印鑑), and they've been used for over a thousand years. People's names are carved onto them, and take the place of a signature when doing things like opening a bank account, getting married, or buying a car.

But now, in 2012, these traditional stamps are undergoing a radical change: Japanese nerdom.
Starting this summer, a dojin manga retailer, e3paper, began expanding to seals with anime and video game characters.
These seals are called "itain", taking the Japanese "ita" (痛), which usually refers to pain, but more and more has a slang meaning: it is typically used for cars covered with nerd stickers. Though, in recent years, it can refer to anything covered in geek, including military hardware. Here, "in" is (印), which is the Japanese character for a sign or a mark.