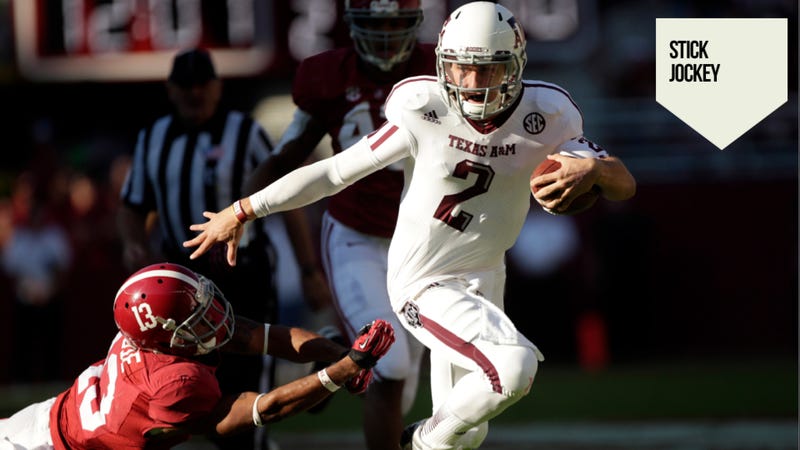 By all rights, Johnny Manziel should have engraved his name on the Heisman Trophy yesterday. He quarterbacks one of college football's most archetypal brands, the Texas A&M Aggies, and has had an outstanding season running the nation's most demanding gantlet, the Southeastern Conference. On Saturday he and A&M deposed Alabama, the No. 1 team and defending national champion, on its home field, in TV's game of the week. He was captured in two dazzling Heisman-pose photographs that will likely make their owner a ton of money. And then there's that winning smile of a nickname, Johnny Football.

Whatever you feel about him or his team, his story this year has every component in place for a landslide Heisman candidacy except one: Manziel is a freshman. Freshmen do not win the Heisman Trophy. A freshman winning the Heisman is about as commonplace as Idaho or New Mexico State winning the national championship.
Which is to say it happens all the time—in video games.
Yesterday CBS Sports aired an amusing highlight package, complete with Super Mario Bros. sound effects, equating Manziel's preternatural ability with feats seen only in video games. It's meant as a compliment, and when you fumble the ball, recover it in midair, and still hit your receiver in the endzone, the whole thing is so implausible that the only precedent for such an outcome is, yes, a video game, where this seems to happen all the time.