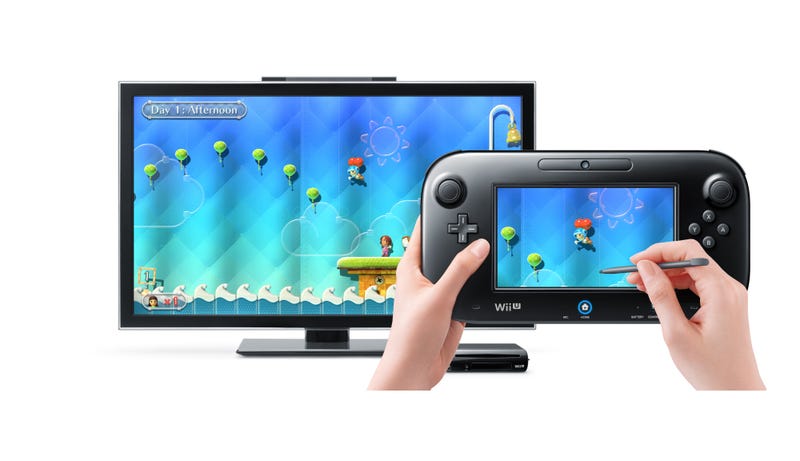 I have a Wii U, so I shouldn't be complaining. I'm not. I'm observing. And my observation is this, my friends: observing a Wii U game is a brand-new skill I have not yet mastered.
When I play this new console, I'm looking at the wrong screen half the time! Or I think I am. Maybe I am. I just don't know.
Panic not, Nintendo people. I'll explain.
The Wii U, like the Nintendo DS and Nintendo Wii before it, is a gaming machine that is designed to be used in ways that we've not used gaming machines before. Getting one of these wacky new Nintendo contraptions is like spending one's lifetime turning keys to start ignitions and then getting in one of those cars that start with the push of a button. I need to learn to get used to this kind of thing!
The Wii required us to learn how to play games with swings of our arms flicks of our wrists that we fooled the machine into thinking were swings of our arms.
The DS required us to look at two small adjacent screens at once and somehow control games with a stylus. What a freakshow! (And, man, what a great, great system it turned out to be.)
The Wii U has a screen in its controller and still pumps out graphics to your TV. That's the main hook. Trust me: while this may be the best console innovation of all time (too early to say), first-time Wii U owners are going to be looking at the wrong screen a lot. And when they're not looking at the wrong screen, they're going to be wondering, "Am I looking at the wrong screen?", even though they're looking at the correct one.
Ever walk into an electronics store and marvel at all the TVs in the TV section playing the same channel a few dozen times over? Which do you look at?
I've played two games on the Wii U that Nintendo delivered, via FedEx, to me earlier this week. New Super Mario Bros. U's graphics are displayed identically on the TV and the game's controller. With that game, you simply choose. You can look at the TV or look down at the screen in your hands. Which one will it be? You decide. Ever walk into an electronics store and marvel at all the TVs in the TV section playing the same channel a few dozen times over? Which do you look at? Or do you take them all in? What kind of crazy person does that? Oh...just you when you're playing New Super Mario Bros. U. It's only on two screens though, so it's not that insane. Just odd. (Having the game play on two screens at once is awesome for giving the TV up to someone else and going somewhere else in your home to continue playing the game off of the screen controller.)