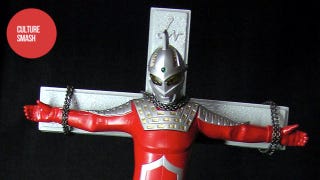 Earlier this month in Tokyo, Bandai showed off some of its latest figurines. Iconic characters were recreated in sculpted plastic. Many of the figures were aimed at older collectors, and one set in particular depicted stood out: the crucifixion of the Ultramen.

Ultraman is an iconic Japanese superhero. Kids grow up watching his adventures on TV and in movie theaters. And in 1973, they marveled as the Ultraman brothers—the Ultra Brothers, if you will—were lured to the desolate Planet Golgotha and crucified. This was the thirteenth episode in the Ultraman Ace series, and it was titled "Capital Punishment! The Ultra Brothers".
Japan is not a Christian country. Only one percent of the country claims to be Christian. Yet, Taro Aso, a Catholic, became Japan's Prime Minister a few years back, and his religious beliefs were hardly a topic of political discourse. Heck, Aso wasn't even the first Christian Prime Minister in Japan. There have been seven. Not bad for a country that actually crucified practicing Christians in the 16th century in hopes of preventing missionaries from converting people—and, in turn, Westernizing the country.