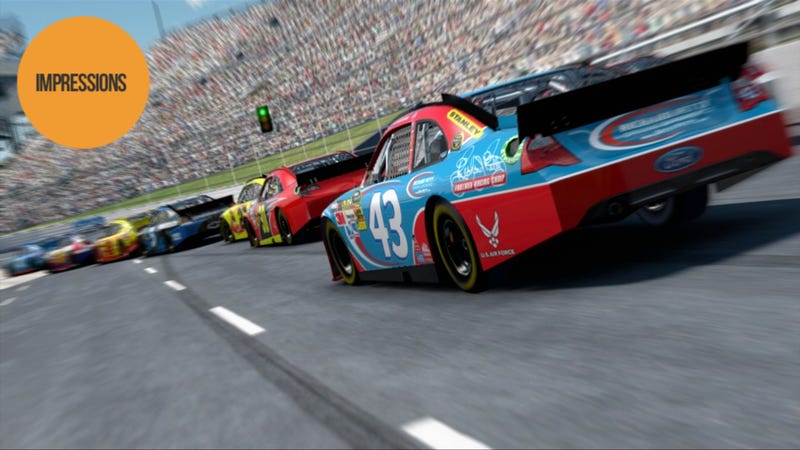 Because of their high fidelity physics and the crude way in which a standard console controller is equipped to handle them, motorsports simulations may be the most demanding genre of any video game. When I fired up NASCAR the Game: Inside Line, rather than jump straight into my career I tried to repeat a moment from the 2011 Sprint Cup Series. It was a simple-draft-and-pass scenario, ranked "easy."

I went into the wall and caused a pileup every single time.
That's the beauty and the beast of Eutechnyx's second edition under the NASCAR license for Activision. Stock car racing is commonly derided as turning left for 400 miles, but it takes a lot of nerve and concentration to race successfully in a motorsport so dependent on drafting in traffic. Even with every assist turned on at the easiest setting, NASCAR the Game: Inside Line will punish you harshly if you don't race according to the sport's code of drafting in the corners and passing in the straights.
At 180 mph, over any distance, turning left without becoming a danger to yourself or others is hard.
I had forgotten that NASCAR is, from a game management standpoint, this kind of an island-hopping campaign. I came to Inside Line having most recently run in Forza Horizon, an arc—uh, "action racer," and F1 2012, also a motorsports simulation, but one where drafting is not as constant a presence thanks to the course layout and the size of the field.