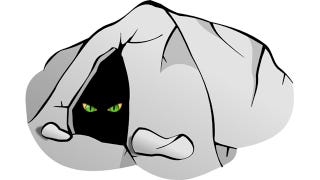 So you're wandering around the map, minding your own business, just trying to get to the next town. You know, the place with the mystical coconut which you can bring to the king who will build you an airship that you can fly across the Dusty Mountains of Lon'dor-thak in order to rescue the mermaid queen and bring peace to the half-eagles of Narnia. Or whatever.
Then there's a noise. The screen goes all fuzzy. Your gut lurches—ugh, not again!—and you find yourself in a random battle with two orc warriors who want nothing more than to rip out your throat (but only after waiting their turn to attack). You've gotta fight, or escape, or find some other way of dealing with them so you can keep moving along. At least until the next one.
This is called a random encounter, and it's the bane of RPG fans everywhere. We also kind of love it.
An RPG's random encounters—not to be confused with sporadic coffee shop romances or the column you're reading—come in all sorts of shapes and sizes. Originally introduced by old RPGs like Wizardry and Dragon Quest, random encounters started off as invisible enemy ambushes. You'd be walking around a hostile environment when suddenly the music would change, the screen would shift, and you'd find yourself locking menus with a gang of marauding rabbits or slimes. To proceed, you'd have to take them out or run away.
Over the next few decades, JRPG combat systems would grow to evolve and experiment in all sorts of interesting ways. In some games, like Saga Frontier and Earthbound, enemies would actually appear on the field or dungeon instead of just popping up out of the ether. Other games, like Final Fantasy XII and Xenoblade, eliminated screen-shifting in favor of a seamless transition: you'd run up to an enemy and immediately start fighting him right on the field. Some RPGs, like The Last Story and Final Fantasy Tactics, prefer to throw a finite number of scripted encounters at you. Nothing random there.
There are a lot of different types of RPGs, and there are a lot of different types of combat. But random encounters are too much of a genre standby to disappear. They'll always be appropriate for certain types of games, and despite the flack they often get, they're not universally reviled. Some people love them. And enough of us have grown up getting accustomed to them, for better or for worse, that I don't think they're going away anytime soon.
I have mixed feelings about this RPG-specific phenomenon. At times they drive me crazy: while playing Final Fantasy Dimensions, for example, the sheer frequency of random battles made me want to hurl my iPad off an airship. But I also sometimes love the rhythm of fighting in games like Dragon Quest IX and many others.