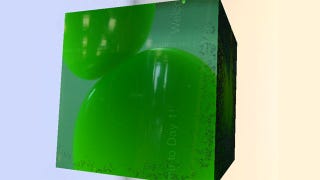 It seems the world is indeed curious about what's inside the cube.
22 Cans, the new experimental studio headed by Peter Molyneux (Fable, Black & White, Populous), launched their much-discussed new mobile app Curiosity today. By 9:30 this morning, yours truly was already the 32,277th person to download the app and "embark on this unique experiment exploring the power of curiosity," as the splash screen told me. As of right now, Curiosity is already up to the number 3 spot on iTunes free "entertainment" apps.
Naturally, of course, players immediately began tapping out rude words, because people. Still, over the course of the day the rude words, tiny drawings, casual greetings, and straight up rows of cube removal have gone a long way toward substantially demolishing the outermost, black layer of the cube. The green layer beneath is tantalizingly visible, with one side almost completely bared.