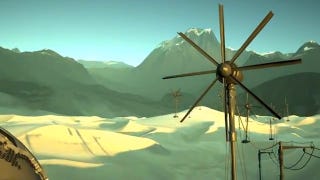 Editor's Note: If people in the gaming industry really wanted to hide stuff, they're going to have to do better. The one and only Superannuation keeps digging and keeps finding gems. Today, on the day that 343 Industries' Halo 4 is out, Superannuation has a massive update about how Destiny, the next game from the people who made Halo is shaping up. And there's more about Beenox, Take Two and...Links??
Three weeks ago, a job opening appeared for a Vancouver-based senior online systems programmer for Bungie's technically-still-unannounced new franchise Destiny. While the studio is unnamed, it is presumably the satellite Vancouver office of Demonware, which handles the online infrastructure for Activision's titles and also lists Bungie as one of the firm's partners on its website.
Demonware's involvement is a tad interesting considering that the terms of the leaked Bungie-Activision contract suggested that Bungie is responsible for Destiny's server and service maintenance operations, and indicated they had some autonomy in choosing the datacenters for the game. Additionally, the Demonware posting mentions that a preference for PS3 experience for applicants, seemingly implying a PS3 SKU for the game is indeed in development—something that was not necessarily a given in the contract.
Until sometime in the past few weeks, among the first ten entries of Google results for a very simple search of Demonware and Bungie was a since-removed blog post (Google text cache pictured below, annotated for reference) about a visit to Bungie's headquarters for the studio's Bungie Day on what appears to have been a publicly accessible copy of Demonware's internal blog. Ironically, the confidential information-filled post has the warning that "If you cannot find [information contained within this post] on Google you should not talk about it to non Demonware employees."
The author, a senior Demonware employee, begins the post with a confirmation that the firm has indeed been involved with Destiny from the project's early stages, with a handful of principles helping with the game's features; however, very few people outside of Bungie—Demonware included—have seen the game in any sort of presentable state. The Bungie Day presentations would be the Demonware employees' first chance to get a real glimpse at the game.
His account of Bungie Day includes a remarkably frank description of the day's first event:
The day started in the Bungie offices (a converted cinema) with a bizarre "Knighting of the Noobs" ceremony, where anyone who started at Bungie within the last 6 months was presented with a signed wooden sword, and asked to kneel in front of Harold Ryan (President) while he read a pseudo oath, culminating in "be brave", a term they have trademarked for the game.
Following this, the group went to a local movie theater "for a few hours of presentations covering everything from game story, factions, art, engineering, tool chain, graphics, audio, player investment mechanisms, player progression, UI, and web and mobile apps." Many presentations featured video footage, but the author lists "a live scene walk through demonstrating lots of atmospherics, huge amounts of trees and foliage (SpeedTree), particle effects, dynamic lighting and dynamic time of day ending in a sun set" as the highlight of that portion of the day.
After the theater presentation, the Demonware employees got a chance to have some hands-on time with Destiny at Bungie's offices, with the author describing his experience with the game thusly:
This is not a dedicated server game, but there is some simulation and coordination running in their server infrastructure. The game was up and down a lot, playing in a team of 3 we did manage to experience entering a zone to find other players already taking on the bad guys, it's cooperative so we helped out (mostly [name removed], I just died) before both groups went their separate ways. Which is a pretty cool experience, making you feel you are part of a much larger populated world.

…At the end of the day I was excited about the game, I like the feel of being in a large world with different destinations and the interactions along the way. It actually brought back a sense of exploration I recall from playing [Elite] many years ago, although there was no opportunity to shoot aliens in the face in Elite. I'm not fully sold on the appeal of being able to change the colour of a weapon, but I guess it works in China, and customization and individual identity is a big theme for the game.
He also gathers that the general consensus from others is that Destiny is "still quite like Halo" and "there is a lot of work still to be done." And he concludes with a confirmation of an old rumor that the project previously codenamed "Tiger" is now referred to as "Destiny."