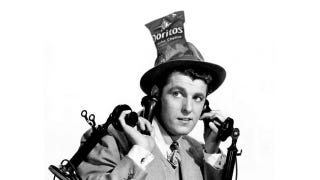 Questionable Tweets. Claims of legal threats. Edited resumes. An article that named names one day and didn't the next.
Mock reviews. Free drinks. Extravagant swag. Elaborate junkets.
These are the ingredients that are helping bring to a boil familiar suspicions about the gaming press, the work they—we—do, and whose side they're really on.
Welcome to the world of games journalism, where, at any moment, someone is certain that you suck at your job. It's not the only job of this type, but it's the one we've got here. It's the one under a more intense microscope than ever these past couple of weeks.
Let's zoom out for a moment and see where we're at.
There is a grand games journalism scandal going on
It's called Dorito-gate by some, which I think makes it games journalism's second "-gate" scandal, following 2007's Gerstmann-gate. Both are different from Watergate in a couple of very important ways.
The gaming "-gates" don't involve the journalism-justifying exposure of the President of the United States as a lying criminal.
The gaming "-gates" do involve problems with the press being too cozy with the powerful companies they cover—which is, embarrassingly, the reverse of Watergate. There's no justifying of the valuable role of the press here but, rather, some ammo for the argument that the gaming press is so co-opted by the establishment that it is not needed. (Of course I don't feel that way, but I'll get to that.)
Dorito-gate is complicated
Gerstmann-gate was as cut-and-dry a fiasco as it gets: beloved GameSpot critic Jeff Gerstmann pans a game, advertiser of said game is pissed, Gerstmann is fired. GameSpot's integrity, at the time, was in tatters.
Dorito-gate is, in comparison, a multi-part mess. It involves 1) criticism of GTTV host Geoff Keighley doing interviews while seated between bags of Doritos and bottles of Mountain Dew that were wrapped with ads for Halo 4, 2) a Eurogamer column by Robert "Rab" Florence about that, the occurrence of British games journalists at an awards show making promotional Tweets for a game in hopes of winning a free PlayStation 3, 3) an apparent legal threat by journalist Lauren Wainwright and/or her editors that compelled Eurogamer to remove a reference to her in the piece that quoted a Tweet in which she seemed to deem the contest as not that big a deal, 4) the removal of which quote from the article compelled Florence to quit, 5) the listing, since deleted, on Wainwright's resume, of having done work for Square Enix, a publisher whose games she's covered, and 6) from there, an avalanche of complaints and suspicion about the coziness of the gaming press with the public relations wing of the companies whose games they cover.
(Note: Before you go further, you probably should read Florence's column as it was originally published. The bolded parts were later removed by Eurogamer.)
Much of Dorito-gate was dug up by gamers on message boards, following the lead of Florence, a part-time games columnist and, more importantly, not, by trade, a games journalist.
The scandal(s) boiled down to matters of coziness, matters of the gaming press being next to those whom they would cover rather than across some line from them.
As Eurogamer's Tom Bramwell would later tell me over e-mail regarding Florence's column: "It wasn't an exposé about corruption; it was a suggestion that we should all be a bit more vigilant about the things in our professional lives that could have a malign influence on us, however subtle or seemingly innocuous. The examples Florence used included a Twitter competition for journalists that would involve promoting a game if they used a certain hashtag, and the fact most journalists are on friendly terms with the PRs and developers they see frequently. The stuff that then happened with Lauren and so forth was a sideshow, and I hope people can return to the original point now and dwell on that instead."
The charge that game journalists are too cozy with the games industry is an old one.
A games reporter who hasn't at some point in their career reported about some sort of games journalism fiasco—some moment of suspect behavior by their peers—is like a reporter in Anchorage who hasn't found an opportunity yet to mention the snow.
A games reporter who doesn't have a story to tell about the guy who showed up at the press junket wearing a swag t-shirt for the game he's covering—or who doesn't have an anecdote about some dumb trinket that a game publisher sent in the mail—just might be that guy in the shirt or might be currently too busy opening their mail.
Games reporting and games criticism (aka reviewing) has long operated at what appears to outsiders as the brink of bribery insofar as bribery equals the giving of stuff by a company to a reporter or critic in the hopes of currying favor. The gentler term for this might be "swag." It's been so common for so long that even when the game company has nothing good to send, they'll send something (how else to explain Nintendo once sending me screws and bolts to hype… was it… Custom Robo?). Somewhere beneath my desk is the mini surround sound system Capcom sent with my review copy of Resident Evil 6, the better I could hear the game, I guess. (I will never unbox it and it will be given away quietly, rest assured.) Did I really need to be sent a crazy clock to cover Dishonored? Disney wants to know if I'd like to go to Disneyland to review Epic Mickey 2. EA wanted to know if I'd like to go to Germany to play Need for Speed and, oh yeah, learn to drive a Porsche. Last spring, Ubisoft sent me and other reporters a now-notorious modified American flag to "thank" me for my efforts building awareness of the game. This stuff is perpetual and, for Kotaku is best perpetually turned down, given away, etc.
"As for swag and travel, it all sucks," Jeff Gerstmann (he of Gerstmann-gate (!) and now of Giant Bomb) told me in an e-mail. "Great, yeah, send me another T-shirt for me to toss out or leave sitting on a desk for three months, like I don't have enough crap sitting around everywhere as it is. If anyone seriously thinks that sending out, like, some pathetic, usually broken statue for an upcoming game sways an editor, they need to get their head examined."
I've gotten those broken statues too. And lots of other stuff our readers have never known about, because being sent them is a bit of a trap. Post about them, even to show how ridiculous it is that they're sending you an ostentatious clock, and you're giving the publisher a free ad. Don't post them and, well, that's better. But then what do you do with all this stuff? Give it away on your site or in your magazine? Then you've got the free ad problem again. Tell the publisher you just don't want this stuff? Sure, that's better, but stuff will show up anyway and wind up 1) piling under one's desk, 2) given away, 3) polluting our nation's landfills or, 4) occasionally—because mistakes happen—going home with one of us.
Gerstmann has a garage full of games, and he knows this is the byproduct of writing about this stuff for so long. "Most of the things I have in my garage are games, because I don't sell stuff that I received for review," he said to me over e-mail. "That would be shitty. Oh, well, I guess there's the plush Bubsy doll that I got at CES back in the early 90s and the coffee mug with a Game Informer logo on it? Please subscribe to Game Informer today, now available in digital form! Also please sign my 'Bring Bubsy Back' petition.
Gerstmann: "If anyone seriously thinks that sending out, like, some pathetic, usually broken statue for an upcoming game sways an editor, they need to get their head examined."
"I suspect that, one day, I will snap and donate some chunk of that crap to a video game museum. Well, except for the Game Informer cup. That's staying with me. But seriously, I hang onto that stuff because I find a lot of it pretty interesting. It's one of those accidental collections that comes from never throwing anything away. If you ever want press releases from E3 2001, I'm pretty sure I have a box full of them around here... somewhere. Weird mementos from a lifetime spent with video games. Sure, there's some sentimental value there, but most of this stuff is worthless crap to anyone else."
No one has to take an oath to be a reporter or a critic. Ethics standards can vary. You can set up your own rules, as we do at Kotaku, where we turn down paid travel, default to shoving the swag under our desks, and make sure we're not wearing game company shirts during interviews. Good ethics are, of course, not a perfect predictor of good journalism and therefore even the most righteous of games press might find themselves running what our publisher calls "fake news."
And if the games press relies too much on access from public relations people? If they depend on access to game previews and get carried away going to cocktail parties and rolling around in all their swag?
"Too many games sites present this weird view of gaming from an 'access all areas' perspective that is alien to most of the gamers out there," Robert Florence said in an e-mail to me, as he outlined just how warped he believes games reporting currently is. Sure, talk to PR, he says. Ask EA PR about bugs in FIFA 13, he said, by way of example. Don't be afraid to offend. "[You should] report everything. That's the key thing. Report everything. They send you a giant decorative flag or a letter thanking you for encouraging sales? Report it. Stand alongside the readers. Sure, your PR access will dry up, but your readers will know why."
His implication is that the press operates in fear of losing access to publishers. That may be true for some. It's not true here, but it doesn't make the issue irrelevant. It's the smaller sites that can get pushed around, a former gaming PR rep told me. Of course, history shows that the giant GameSpot got a nudge, too.
Disdain for the gaming press isn't hard to find
I asked Florence: "What do you think went awry with games journalism to make so many people skeptical or even disdainful of it?"
Florence: "I think we're in a horrible position right now, where most games coverage is almost indistinguishable from PR."
And he said: "I think we're in a horrible position right now, where most games coverage is almost indistinguishable from PR. The whole Pre-Order/Day One/Midnight Launch circus has turned many games writers into cheerleaders for product. Here's the thing—games PR people are doing an amazing job. The circus they've created serves the games sites well too—the exclusive previews and reviews drive traffic through the sites, and the press drives hype, and we have this whole strange symbiotic relationship that PR is in total control of. I've seen many games writers over the past week saying that they've never been influenced by PR, but PR is a subtle thing. We are all influenced by it. What we lack is an alternative games media. We need a subversive, alternative games media that completely rejects the PR relationships that we've been instructed to believe is essential to games coverage."
That first part is most damning.
To repeat, he said, "I think we're in a horrible position right now, where most games coverage is almost indistinguishable from PR."
Ouch.
True?
I read that line and was ready to dump a whole pile of links from my team at Kotaku and from the writers and reporters at Polygon, Penny Arcade Report, Eurogamer, Gamasutra, Rock Paper Shotgun and more to suggest that there's plenty of what Florence is looking for.
But if he has to have it pointed out more, well, ascribe the blame where you think it fits. Some people just aren't reading it; some people aren't publishing enough of it.
Criticism of the gaming press is so common it can become white noise. A good reporter is perpetually trying to improve anyway, but outside complaints about this story or that can be a helpful alarm if they can transcend the din. You don't just "risk" a deluge of unwanted swag while working the gaming beat; you also encounter, daily, people who say you are terrible at your job. Some of these people dedicate entire blogs to the alleged incompetence of the entire field and helpfully note that, should a particular games writer "fall down the stairs breaking his arms and legs in the process I'd have a tough time feeling sorry for him." And on the other end of the spectrum we have a fine reporter whose website's mission statement begins with "'Games Journalism' is broken." The valid complaints mix with a sea of misreadings. The shrill lies are mixed with uncomfortable truths. The most patient person can sift them apart.
Walker: "Where once [expertise] was desired, it's now considered arrogant oppression. So when a review disagrees with a reader's strong opinion, it's much more satisfying to conclude the discrepancy is the result of corruption."
I plead guilty, however, to lurching the other way and usually skipping writing criticism about games journalism. Ever sit in a room with a bunch of games reporters? Guess what they inevitably start talking about? If you guessed "games reporting," you just won a free PlayStation.