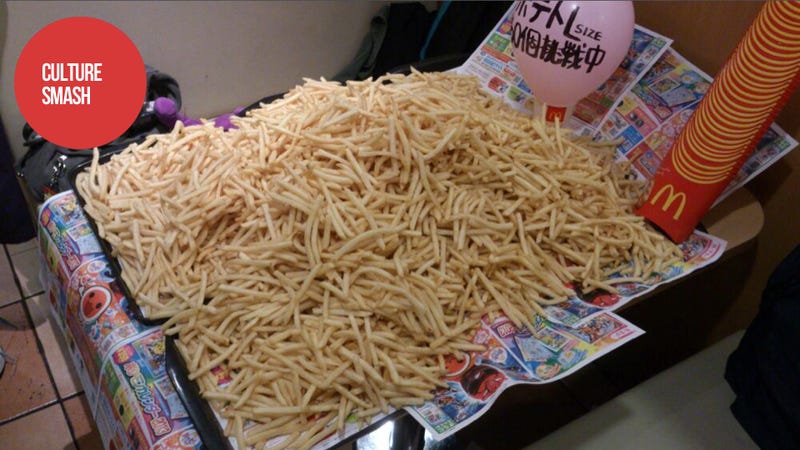 This October, McDonald's Japan has been running a special sale: all French fry sizes are ¥150 per order. So ordering large sized fries, which are usually much more expensive, is now a bargain.
It's not just a bargain, though. It's also a French fry frenzy that's pissing some people off.
The French fry sale is leading to a handful of kids holding their own "Potato Party", in which they order absurd numbers of fries, and then upload the images to Twitter or their own blogs.
When the sale first started earlier this month, one Twitter user uploaded photos of 23 orders of large fries, which were then dumped into trays. Those trays became the feeding trough for kids to devour over 13,000 calories.
Kids are kids—they do stupid stuff everywhere. But McDonald's is slightly different in Japan. The McDonald's staff uses "polite Japanese" when they take orders. That isn't to say McDonald's is a fancy restaurant in Japan—but that Japanese people tend to have a much higher standard of what they expect in food service.
That in turn trickles down through the rest of the society, and there are much higher expectations towards how people should act in public. Not everyone feels this way, but the attitude does tend to dominate.
When the images of the 23 orders of French fries started getting re-tweeted thousands of times in Japan, many people criticized the teens for their silly stunt. Some said the teens were acting stupid and that this was a huge bother for this particular McDonald's, while others were amazed to see so many French fries.
One theme that continued to appear in the criticism was how wasteful the whole stunt appeared. "Look, buying 23 large French fries is fine, but you gotta eat them all, you gotta eat every last one," tweeted one individual.
In some cultures, you are supposed to leave some food to show that you are not hungry. In Japan, you are expected to clean your plate. Not doing so is seen as wasteful. And being wasteful in Japan is a sign of bad manners.
But in recent years, large food sizes have become somewhat of a thing in Japan—that's fine, but you are still expected to clean your plate.