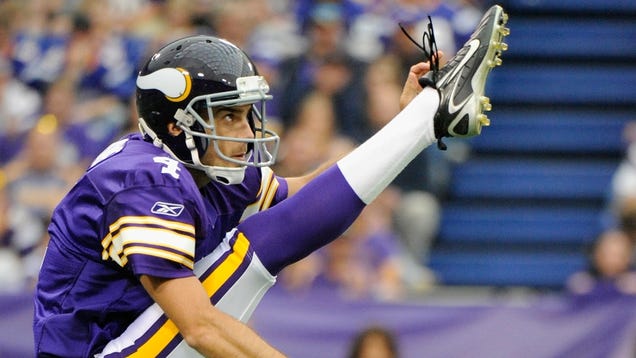 Football is a role-playing game. That's how Chris Kluwe, the Minnesota Vikings punter and noted World of Warcraft and RPG fan, is approaching it. Each week in the NFL, ChrisWarcraft characterizes his upcoming game in terms of an MMO quest. We're going to chart his progress and see how fast he levels up.
Last week, ChrisWarcraft's hopes for triumph died at the feet of Robert Griffin III, who acquired shoes of +5 to movement and wore an enchanted helm and plate armor that reduced encumberance to nil. Today he confronts the realm's most ancient evil—the Arizona Cardinals?
This week's quest:
Weekly Quest: Bird Hunting. Reward - [6.25% exp, seriously, it's the Cardinals, they're like the most mildly inoffensive team in the league]

— Chris Kluwe (@ChrisWarcraft) October 21, 2012
OK, fine. He's right. I can't talk them up into anything epic. The Football Cardinals have been synonymous with boring for the vast majority of their 112-year existence (yes, really, that long). This sounds like a simple courier mission, even if Arizona is 4-2 like ChrisWarcraft's Viking guild.
Last week:
Weekly Quest: Invade hostile territory and dominate a once proud group of people. Rewards: [6.25% exp, Perk unlocked - Manifest Destiney]

— Chris Kluwe (@ChrisWarcraft) October 13, 2012
Result: QUEST FAILED (Washington 38, Minnesota 26. Kluwe: 2 punts, average 50.5 yards, long of 56, two inside the 20.)
ChrisWarcraft has completed four quests and failed two so far.