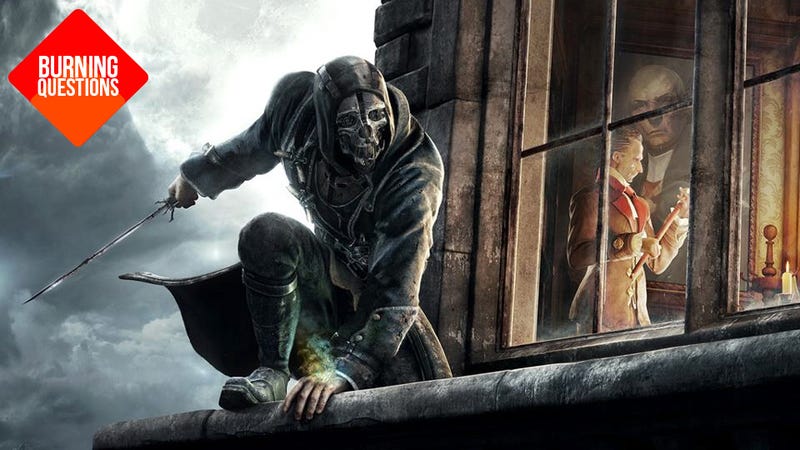 This fall, we've been getting the best sort of déja vu. From Dishonored to XCOM, many of the best games of the fall have learned from past classics and reworked them into smart, satisfying, fresh-feeling games. Is this new appreciation for 90's classics a trend, or an anomaly? What exactly does "old-school" mean? Does the future of gaming depend on this current crop selling well? Is Mitt Romney actually a giant spider?
My oh my, those sure are some... Burning Questions.
Kirk: Hello Jasonbro! It has been a little while since we did one of these. I guess we've both been busy playing lots of video games, huh?
Jason: I fucking hate video games.
Jason: just kidding
Kirk: This time of year, it can be easy to start feeling that way. Especially if you're, say, reviewing Resident Evil 6. Heyo! (Too Easy? Low-hanging fruit?)
Jason: Low-hanging fruit that pops back up every time you try to take it and says "YOU HAVEN'T SEEN THE LAST OF ME YET!" Yeah, I'm lucky enough to have spent my time with a ton of great games over the past few weeks. Dishonored, XCOM, Virtue's Last Reward...
Kirk: As well as Torchlight II, Borderlands 2... the list goes on and on. Honestly, there's been some grumping from people I know about how 2012 has been a bad year for video games, but I think they're tripping. Skyrim may not have come out again this year, but 2012 has been fantastic. Fantastic, and super interesting.
Jason: Fantastic, super interesting, and old-school.
Kirk: Yeah! Which is our topic du jour—how all of these old-school ideas and philosophies are showing up in modern games, and how for the most part, they're working.
Jason: We sure are enjoying them, aren't we? Maybe it's because of nostalgia; maybe it's because design was actually much sharper 10 or 15 years ago. I don't know. But you're right — it's 2012 and here we are raving about games like Dishonored, which is basically Deus Ex, and XCOM which is basically... XCOM.
Kirk: I think you make the delineation thusly: X-Com for the old game and XCOM for the new one.
Jason: Dashes and lower-case letters are so 1994. The future is all CAPITAL LETTERS.
Kirk: AND THANK GOD, REALLY. But yeah, as you say: It's important to plumb why, exactly, we like these games so much. Is it nostalgia, or is it because they're good games? Though actually, let's deal with that one swiftly, because it feels like a less-interesting digression. Dishonored, XCOM... these are effin good games by any metric. Nostalgia, shmostalgia.
Jason: Right — I mentioned to you while we were playing Dishonored that this is a game I would want to show someone as an example of what video games can do. Like, here you are in this situation, and you have to figure out how to accomplish your goals, and the story is what you do along the way. Emergent narrative, and all that jazz. I usually prefer a more linear, tighter story, but it's hard not to be impressed at just how empowering a game like Dishonored can be.