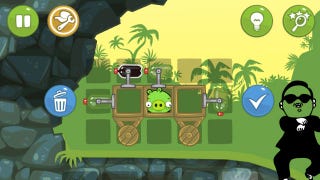 We used to track the iPhone charts, back in the day. Each week we'd gather the pertinent data, update figures, calculate gains and losses—it got to be a tremendous hassle. Now we're bringing the charts back bigger, better and more of a hassle than ever before.
I am a glutton for punishment, so today marks the first in a series of weekly chart tracking entries. We'll start with iPhone, then do Android, Windows Phone and finally iPad on Friday, if I'm not dead by then.
Why do this? We spend plenty of time telling you folks which mobile games we like. These are the ones you guys like. It's kinda sad that I have to tell you what you like. Perhaps I am phrasing this wrong.
Oh look, Bad Piggies!
Top Paid iPhone Games - 10/16/2012
1. Bad Piggies
There's just something about an Angry Birds tie-in that devours mobile game charts whole.