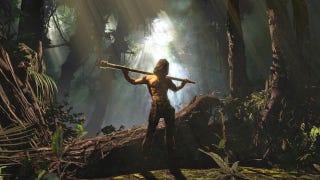 In a year filled with addictive action-RPGs with names like Diablo, Borderlands, and Torchlight, it might seem insane for another contender to jump into the fray. But the people behind Path of Exile don't mind a little insanity.
This December, Path of Exile will officially enter open beta and what the team is calling a soft launch. It's an ambitious game, a hack-n-slash RPG that blends the skill-driven lootfest of Diablo II with the materia-based character customization of Final Fantasy VII. And it's totally free to play.
But why do we need another action-RPG? Between Diablo III this May and Torchlight II this September, there are plenty of options for PC gamers looking to scratch that itch to click-click-click til the wee hours of morning. Where does Path of Exile fit in?
"I would say that Path of Exile is a game for people who care about intelligent character builds in action-RPGs," producer Chris Wilson told me during a recent Skype interview. He also told me about Act III, a major expansion to the game that will launch later this year. (More on that later.)
I'd asked him to pitch his game to a player who was maybe burnt out on Diablo or still addicted to Torchlight. Why should we play Path of Exile? How does it stand out from the pack?
Maramoa, a "highly decorated Karui warrior" and one of the new characters in Act III of Path of Exile.
"One of the key things is having a secure online economy," he said. "Our first design goal was to get that in place, because that way we're not just a single-player action-RPG. People can actually form an online community around it and care about their characters and items, in comparison to, for example, Torchlight II which has peer-to-player multiplayer, which has all the advantages of multiplayer but not as much security as having dedicated servers, where the character is stored on the server."
Torchlight II, which received glowing reviews when it was released last month, maintains a completely open environment. You can mod or cheat all you want; there's no security or DRM to get in your way.