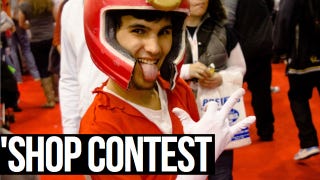 We're giving you back the old 'Shop Contest. We've been splitting the exploitables off from the forum in which new entries have been posted, but a lot of this feature's popularity, over the past three years, has been in seeing both the new challenge subject and everyone's responses all in one place. So we're bringing that back, beginning now.
That means this week, 'Shop Contest artists should post their entries in the comments underneath this post, just like the old times. It won't be in chronological order, but everyone should be able to see everything now.
So, as we return to the old format, I'll throw it open to an old standby, the cosplay exploitable.
There are more than 40 shots in this gallery rounded up from New York Comic-Con 2012; I'm sure something is usable out of it. If not, let me make a few suggestions here.