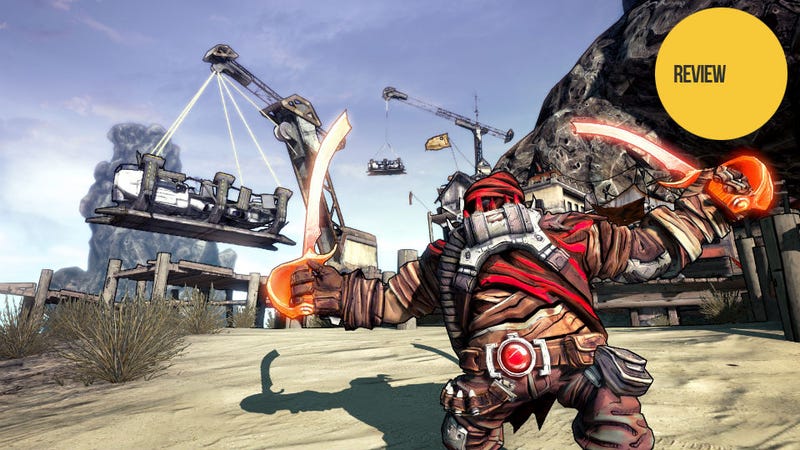 There's a hidden oasis in Pandora that you never knew about, with palm trees and crystal clear water that I want to die in (which, incidentally, probably happened a few times).
Captain Scarlett and her Pirate's Booty is the first in a series of planned campaign add-ons for Borderlands 2. It introduces funny new characters, some really great new weapons, more challenges, a lot of new quests and an amazing vehicle. Heck, even some of the loot chests sport new designs. It's all very new and exciting.
The first person you'll meet in Oasis—a dried up pile of dust that was once apparently a beautiful resort settled by an equally beautiful ocean—is Shade. He's basically the most exaggerated version of Johnny Depp's character—Raoul Duke—from Fear and Loathing in Las Vegas, complete with the glasses and hat and the crazy face. He's lonely, and ever so pleased to have a new friend roll into town. Creepily pleased.
He's also a little bit insane, like most of the people you'll meet in a Borderlands game. Insane is the new normal on Pandora. His loneliness and insanity combine to create delusion, in which Shade insists he's not actually alone on his tiny, desolate oasis. Just look at those people in the center of town! You see that one over there, slouched over that bed? She's totally not a corpse, all pinned up with a megaphone shoved in her mouth. No, not at all. In fact, go talk to her to collect a quest item that you'll need to repair the new vehicle: a sand skiff that fits two players. Well, technically fits two players, anyway (more on that later).