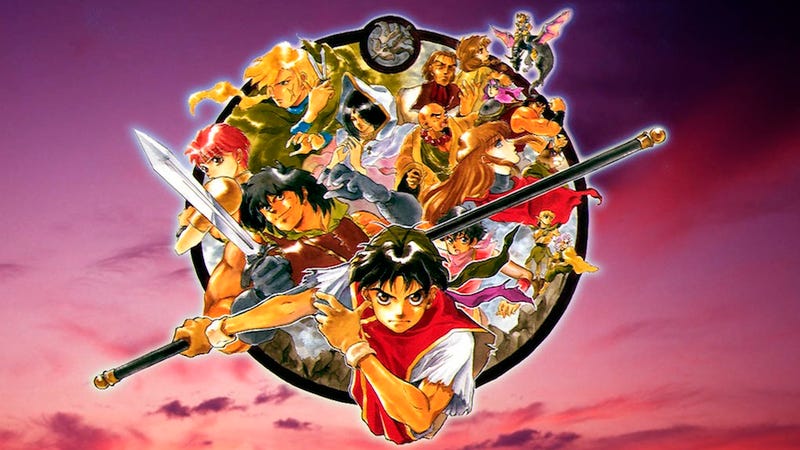 Suikoden is a video game series about destiny. About fate. About people who fight against near-insurmountable odds to accomplish things that shouldn't be possible.
So in a twist of morbid irony worthy of The Twilight Zone, this wonderful RPG series has spent the past 15 years embroiled in its own battle against fate, its own struggle against the odds. Destiny is working against Suikoden. A major force of nature—by which I mean Konami—seems to be conspiring to kill the series forever. Yet it's somehow still alive. It's hooked up to a respiratory machine, but it's still alive.
And it needs our help.
You might not be familiar with Konami's great RPG series. Perhaps your eyes glaze over the word Suikoden, pronounced SWEE-KOH-DEN, because your brain reads it as meaningless gibberish. It kind of is. It also comprises some of my favorite games of all time, experiences that have moved and affected me more than just about anything else out there.
There are five main Suikoden games, three spinoffs (one of which was released on the PSP earlier this year, but has not yet made it to U.S. shores), and two Japan-only "gaiden" side stories. Every Suikoden game puts you in charge of an army and lets you go out and recruit a whole bunch of characters (usually ~108) by talking to them, solving their problems, and following them along various sidequests as you try to convince them to join your team. Every Suikoden game is all about big, sweeping plots filled with political intrigue, betrayal, magic, fate, and many, many crazy and interesting characters. Some are better than others, but they're all pretty special.
First released (here in the U.S.) in late 1996, the unfortunately-titled Suikoden was one of the PlayStation's first RPGs. It was short, sweet, and excellent—a harrowing tale about a son forced to rebel against the empire he once served. 1999's Suikoden II was straight-up perfection. It's my favorite game of all time, a masterpiece that fixed the first game's flaws, subverted all of my expectations, and told a story so interesting, so poignant, so utterly compelling that I don't think I'll ever forget it. And the music! The music!
Konami continued to release games in the series, none of which earned a ton of attention, no matter how much they deserved it. Most were released here, up until 2012's Genso Suikoden Tsumugareshi Hyakunen no Toki, which has yet to make it to America. (I have asked Konami about this multiple times. They won't comment.)