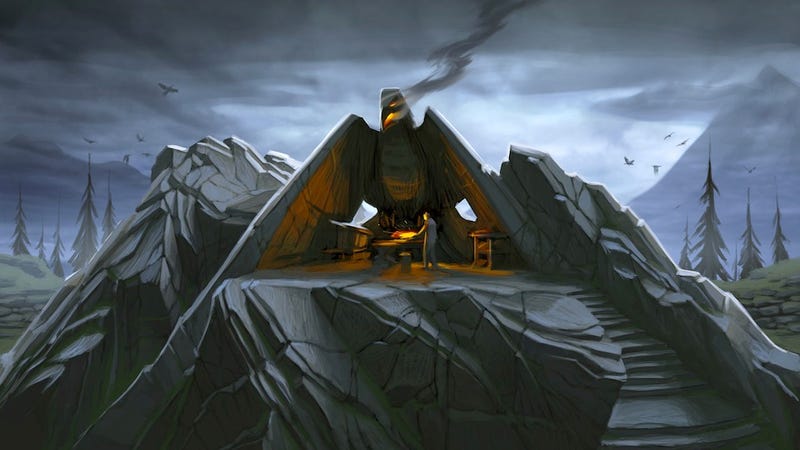 While in Seattle a few weeks ago for PAX Prime, I went out to dinner with a few game designers and Kotaku colleagues. Somewhere between the sirloin and the bananas flambée, conversation turned to Skyrim.
We sat there for a while, telling stories about the cool things we'd found in Bethesda's popular role-playing game. We talked about funny glitches, about hidden items, about getting lost in the hills and caves that make up Skyrim's gigantic world. Each of us had experienced things the others hadn't. It was illuminating.
I can't imagine doing that same thing with a Japanese role-playing game. Can you picture the stories? "So then I made my way out of Midgar and hunted down Sephiroth to the Promised Land." "Me too." "Same."
When game designers talk about games like Skyrim, they like to talk a lot about something called "emergent narrative." In human language, that refers to the story that comes out of your actions within a game. Say you stab the Jarl of Morthal, kill all the guards, run outside, summon your horse, and immediately get killed by a dragon. That's a story. Not a particularly emotional story—but an emergent one, the type you might tell your friends about.
But the problem with this emergent approach is that it limits what a story-teller can do. Bethesda's scribes could have taken months to write and develop the most interesting character in the world, a flawed hero with a tragic past and an even worse future. They could have written arcs and climaxes and torturous obstacles for that hero, taking her along some sort of crazy journey that changed the way she looked at life. And you might have never met her. You might have killed her. You might have put a bucket on her head and immediately lost all ability to take her seriously. Quite frankly, the biggest obstacle to telling a good story in a video game is... you.
Quite frankly, the biggest obstacle to telling a good story in a video game is... you.
Don't get me wrong: there are some great moments in Skyrim. Great dinner-table stories. You'll find interesting books and get betrayed by nasty elves and stumble upon lighthouses haunted by demon centipedes. But the writers were limited by the player's freedom. You can walk away in the middle of a story, go find something else to do or someplace else to go. It's simple to screw with pacing and kill any chance Skyrim might have at achieving emotional resonance. Just go do some quests out of order, or make a mess of someone's kitchen while they're telling you about their dead son.
Even Skyrim's main plotline—a weighty affair that involves saving the planet from dragons—is relatively thin, and hard to care about, mostly because the nature of the game makes it tough to empathize with the characters that inhabit Skyrim's world. You don't meet many people with strong desires and goals; most of your time is spent solo, exploring and fighting through the wilderness. From a ludic perspective, that's ideal. For a story-teller, it's quite the opposite.
The Japanese approach, as we've seen in games like Final Fantasy and Chrono Trigger and just about every other RPG not named Dragon's Dogma, is strikingly different. They don't want you to miss anything. They want to take you on a meticulously-scripted adventure with very little wiggle room. You might not walk away with stories to tell your buddies, but if a JRPG does its job, you'll walk away feeling some sort of powerful connection to the characters. You'll feel their pride as they grow, feel their sorrow as they watch friends and loved ones pass away. You'll connect.
(This is assuming that everything else is also executed well, of course. If the dialogue is awful, or a character's voice acting hurts your ears, or the music doesn't fit, the story might have different issues achieving emotional resonance.)