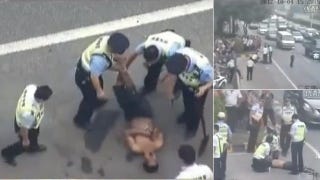 This Saturday in Foshan City, China, a shirtless man started gnawing on a woman's face. The woman, surnamed "Pan", told local media that the man approached her on the street, cornered her, and then began eating her face.

"I shouted to him asking what is he doing, but he kept seizing my head and suddenly bit me on the face," said Pan.
According to Shanghai Daily, police showed up on the scene, and the man, who was around 40 and who was wielding a shovel, began chewing on a cop's arm. Shanghai Daily also reports that the man had also been attacking bystanders with the shovel.
The man tried to escape by jumping on the back of a moving truck, but was apprehended by police. The man was sent to the hospital to determine if he's mentally ill. (He probably is!)
This is the latest in what can seem like a string of face eating attacks. Earlier this summer, there were face-eating attacks in Wenzhou, China and Miami.