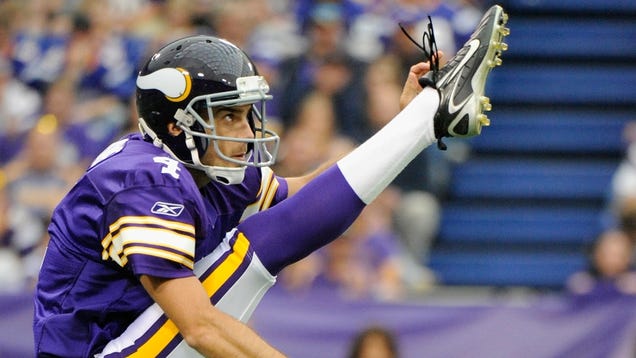 Football is a role-playing game. That's how Chris Kluwe, the Minnesota Vikings punter and noted World of Warcraft and RPG fan, is approaching it. Each week in the NFL, ChrisWarcraft characterizes his upcoming game in terms of an MMO quest. We're going to chart his progress and see how fast he levels up.
ChrisWarcraft is grinding quite nicely through this NFL season, and looks hopeful, early on, to pick up an expansion after finishing his first 16 quests. Here's what he's out to collect today in the Vikings' home lair against Tennessee.
This week's quest:
Weekly Quest - Slay an elder Titan. Quest Rewards: 6.25% exp, gold, Fantasy RB owner Tears. Unlock Perk [SLRA (Super Long Rhyming Acronym)]

— Chris Kluwe (@ChrisWarcraft) October 7, 2012
Last week:
Weekly Quest: Retrieve a Lion's Mane from Vault 13. Boss strategy: Taunt, then avoid ability Rage Stomp. Reward [6.25% exp, Orange Jumpsuit]

— Chris Kluwe (@ChrisWarcraft) September 29, 2012
Result: QUEST COMPLETE (Minnesota 20, Detroit 13. Kluwe: 6 punts, average 43.2 yards, long of 52, two inside the 20.)
ChrisWarcraft has completed three quests and failed one so far.